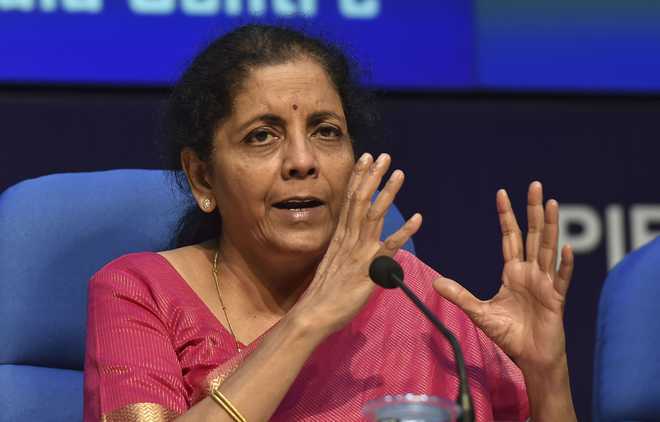 editorial@tribune.com
Vibha Sharma
Tribune News Service
New Delhi, August 25
Her main aim was to address concerns of the industry and the markets in an economy headed south and try to tackle deteriorating sentiments and perceptions over the slowdown. But the first real press conference by Finance Minister Nirmala Sitharaman, to an extent, also aspired to mend bridges with the media after a long stand-off that started when her ministry restricted their entry into the North Block.
Bankers and industrialists voiced their approval for a "course correction" on Friday and the markets too are expected to react positively tomorrow to the announcements made by the FM at a detailed interaction lasting over an hour.
Following the Finance Ministry's notice that "the entry of mediapersons, including those holding PIB accreditation, will be on the basis of prior appointment", a large number of journalists had boycotted its customary post-Budget dinner, causing much embarrassment to Sitharaman and officials. "The number of hosts surpassed the guests," said those who attended the event.
The "stonewall" move resulted in widespread criticism from the journalistic fraternity. Though journalists are not allowed inside the ministry ahead of Budget presentation, the quarantine is lifted once it is tabled in Parliament. More flak came her way after senior ministry officials called a media briefing, but refused to answer any questions at a time when they should have been on an overdrive to address concerns over the "poor" economy.
Protesting the "monologue", journalists said "suppressing their right to question" at a time when there were "deep concerns over economy" was "not good for the country".
Sitharaman's "first real media interaction" is said to be part of a series the ministry is planning over the coming days. Officials say she has been meeting representatives from the industry, including auto, telecom, banking and SMEs (small and medium enterprises), to understand their concerns and would continue to share the government's initiatives to address them with the media.