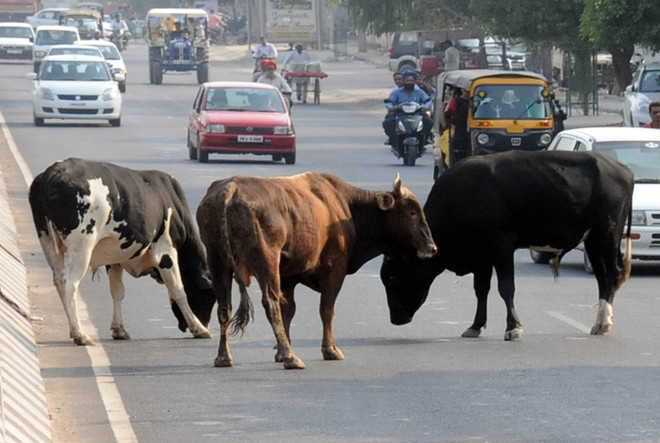 vermaajay1968@gmail.com
It is a welcome sign that civil society, waking up to a civic problem, has sent legal notices to the Punjab Chief Secretary and the Sangrur Deputy Commissioner as well as officials of the local Nagar Council for failing to check the stray cattle menace that has claimed eight lives in the district in August alone. The committee, which includes members from all walks of life, has threatened to launch an indefinite protest if no action is taken. Like its neighbour Haryana, Punjab too has been dogged by the problem of stray cattle. They are ubiquitous, resulting in traffic hazards, loss of life and property. Local Bodies Minister Brahm Mohindra has remarked that the menace is 'playing havoc with the lives of thousands and has become a major cause of concern for the government'.
Cattle-rearing is basically a business, done to earn profits, and the owners abandon the animals once they are no longer economically remunerative as the cost of maintaining them is high. Oxytocin injections are commonly used to boost milk production, as corroborated by research at Guru Angad Dev Veterinary and Animal Sciences University, Ludhiana. In the rural areas, there is also a reluctance to seek proper veterinary care. The help sought from quacks leads to uterine problems, making the cows unproductive as they cannot conceive again. The male calf's utility has reduced because of mechanisation of agriculture. Also, most stray cattle are not indigenous breeds. This is because they are more resistant to local conditions while the cross-bred ones find it difficult to adapt, resulting in infertility and lesser milk production due to the antibiotics administered.
Cattle from Punjab are sought after in other states, but restrictions have made trade unviable. The new definition of 'animal market' makes it difficult to procure cattle because a lot of paperwork has to be done to guarantee that they are not for slaughter. And then there are the vigilantes who make matters worse. But it bodes well for the state as Sangrur residents have shown that ultimately it is the people who have to take up causes that concern them and make the authorities accountable.