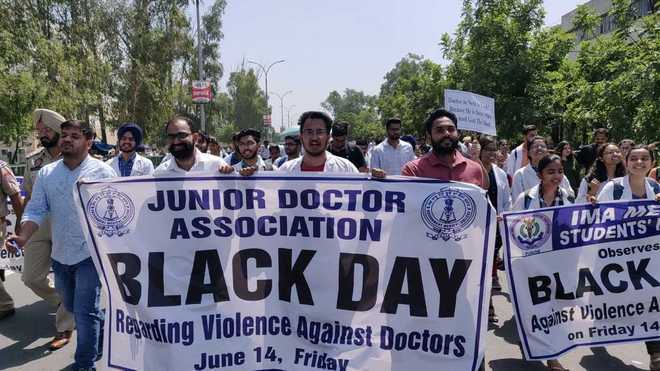 ROBINSINGH@TRIBUNE.COM
The government's draft legislation proposing a stiff 10-year jail term and fine on those guilty of attacking doctors and hospital facilities over perceived medical negligence aims to remedy this malaise. It is a much-needed safeguard for medical professionals, who, shaken by rising incidents of assault on doctors and vandalising of hospitals/clinics, have had to strike work in their quest for protection of law. As the patient-physician trust takes a beating in hospitals that are brimming with the sick, the critically ill and overloaded doctors, patience is the casualty, often triggering violence. In the emotionally surcharged atmosphere of losing a loved one, it is the healthcare providers who get to bear the brunt of the bereaved relatives' misplaced anger.
The kin fail to appreciate the fact that the doctors tried their best and gave the best possible treatment under the circumstances — usually, the precarious condition of the patient, coupled with inadequate facilities. A major cause for this fact getting buried under is also the loss of confidence in the physicians' abilities and intentions. A few black sheep among them, including medical colleges with 'paid seats', have so commercialised the noble profession that an ordinary patient feels frustrated, enraged and cheated of a service that is his right even after emptying his pocket.
While this proposed law is necessary insofar as acting as a shield for doctors and enabling them to perform their duty fearlessly, it is not enough deterrent to defuse the situation. To prevent workplace violence — according to the IMA, three out four doctors face verbal or physical abuse — the doctors' healing skills must be complemented with soft skills. They need to build a trust with better communication. This can be better facilitated if the doctor-patient ratio and infrastructure are improved. Deploying social workers in emergency wards to deal with anxious patients and their kin is a good idea. Care has to be given as well as seen to be given, equally to all. It will restore the people's respect for the doctors and again underscore the fact that though they did their best, they are not magicians.