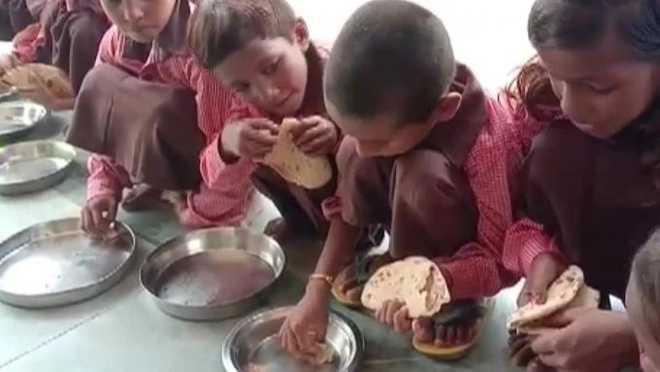 ROBINSINGH@TRIBUNE.COM
HE should have been lauded for exposing the rot afflicting the midday meal scheme. Instead, the government in Uttar Pradesh booked the journalist who made the video of school students being served salt and roti on the campus in Mirzapur district on the charge of criminal conspiracy, accusing him of being part of an attempt to defame the powers that be. The journalist was doing his job after being informed by an aide of the village head. The whistleblower, too, has been booked on a complaint lodged by the block education officer. Bizarrely, the District Magistrate has questioned the print-media reporter's action of recording the video instead of just taking a photograph. On his part, the journalist has maintained that he was only trying to highlight 'nutritional inadequacies' in the meal. Though the state government has announced to examine the FIR, the shoddy implementation of the scheme has been thoroughly exposed.
The state government has clear-cut guidelines on the midday meal, under which pulses, rice, rotis and vegetables are to be served. The administration has blamed the schoolteachers for the 'mismanagement'; a few of them have already been suspended. However, the monitoring of the scheme by the authorities has left a lot to be desired. The onus is on the government to find out the reasons for the lapses and fix responsibility at various levels. Hopefully, the notice served by the National Human Rights Commission on the government should act as a catalyst to overhaul the state of affairs.
The Editors Guild has described the FIR as a case of 'shooting the messenger'. Rightly so, for the occupational hazards that a journalist faces in highlighting issues related to public welfare are many. Unreasonably invoking the might of the State reeks of intolerance and impatience with dissent.