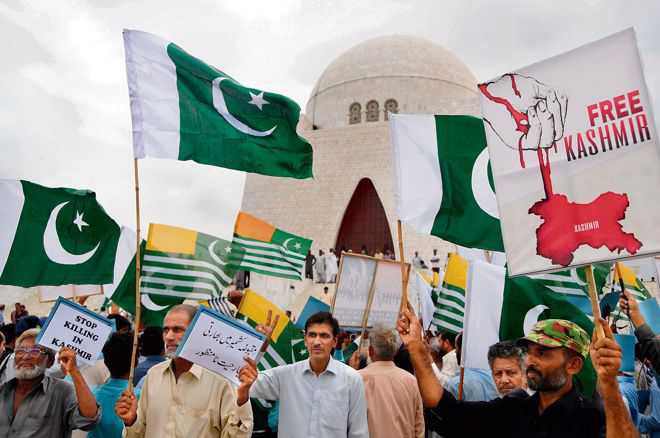 Vivek Katju
Vivek Katju
Ex-secretary, Ministry of External Affairs
Over the past few weeks, Pakistan has been projecting itself as a responsible and moderate, if not a liberal, Islamic state, and India as a country which has moved away from its secular moorings and constitutional principles under the present government. By so doing, Pakistan wants to shift the international focus away from its involvement in terrorism to the current restrictions in J&K, and raise the spectre of a fascist and dangerous India.
Pakistan's immediate object may be to get the United Nations Human Rights Council (UNHRC), which will meet in Geneva from September 9 to 26 to criticise the government's law and order steps in J&K, but its long-term objective is to mute the global narrative which has largely defined it for a decade and a half — that of a country in the grip of fundamentalism and promoting terrorism abroad. Pakistan's ideological predilections and state structures may not be conducive to the narrative shift it seeks, but Indian policy-makers should not take comfort in the expectation of the unsustainability of these Pakistani endeavours. They have to devise a strategy to thwart the Pakistani game plan.
To project itself as a caring state, PM Imran Khan is going out of his way to show that Pakistan cares for its religious minorities. In particular, he is focusing on the country's Sikh minority and is seeking to show-case his government's decision on the Kartarpur Sahib Gurdwara corridor as an example of concern for the welfare of the Sikhs everywhere. He addressed an international Sikh convention organised by Punjab province governor Chaudhry Sarwar on September 2. The meeting was hardly 'international' as only around 50 Sikhs from the US, Britain and some European countries took part. Imran Khan warned the gathering that Hindutva forces would not stop at targeting only Muslims and Christians, but would also act against Sikhs and Dalits! The Pakistan army, too, is emphasising the same theme. All this when Sikh and Hindu girls are being abducted and forcibly converted and married off.
Pakistan is also trying to show that Pakistani Hindus are well cared for. This is a crude attempt to contrast it with the supposed 'zulm' by the Hindutva groups against Muslims in India. It obviously overlooks the persecution of Hindus in Pakistan. Hindus have no redress and yet Pakistan foreign minister Shah Mahmud Qureshi told a Hindu gathering in Sindh, 'We will ensure that the lives, property and honour of the Hindu community are secure.'
On Imran Khan's call, Pakistan observed solidarity with Kashmir for 30 minutes last Friday. He has asked the nation to adopt a means every Friday to display its concern for Kashmir. While pushing such displays to the forefront, Pakistan has taken care to push the jihadi tanzeems into the background. It is significant that Pakistan has deliberately reined in the fiery propaganda of these groups ever since it decided to work to modify the narrative. This has kept the focus away from terrorism and incendiary statements.
He is now pushing an anti-war rhetoric, even while warning that Pakistan will defend itself if it is attacked. The well-regarded Pakistani newspaper Dawn said Imran Khan told the international Sikh convention that 'war could not be a solution and those looking at this option were fools'. The purpose of such comments obviously is to project Pakistan as a responsible peace-loving state. That this is self-serving is clear, but it is interesting that when he — either deliberately or inadvertently — made an ambiguous remark on Pakistan's nuclear doctrine, the foreign ministry spokesman was quick to deny any change in it.
The immediate object of his soothing tone is to attempt to get a UNHRC resolution criticising the restrictions in J&K, calling for their removal and mandate an investigation. Media reports indicate that India is taking potential Pakistani moves seriously and is working to ensure that the council does not adopt any resolution on the J&K situation. This is the right approach.
The council consists of 47 members, including India and Pakistan. The US has left it. China and Britain are the only members of the P5 on it. The real issue is whether China will support Pakistan in the council. China's own position is vulnerable for the way it treats its Uighur Muslims, but that may not deter it. Pakistan is, of course, also playing the Muslim victim card. Imran Khan has emphasised that if non-Muslims were facing the situation as Muslims in the Kashmir valley are doing, the world would not have stood by idly as it is doing now. Till now, this track has not got traction.
Indian diplomacy will have to be active to ensure that the council does not adopt any resolution. The chances are that few countries would like to take a position against India, even though the Kashmir restrictions have attracted the adverse notice of the important sections of the international media and political opinion. While all this puts pressure on foreign governments, they are unlikely to take action, except in some cases calling for the removal of restrictions on the lines the EU foreign policy did in a recent meeting with EAM Jaishankar. India can take this in its stride. What it has to avoid is the occurrence of large-scale violence or a Tahrir Square-like situation.
Clearly, Pakistan wants to build the theme that India is becoming anti-minorities and fascist. It hopes to secure support in Europe and the Islamic world. Indian diplomats will have to counter this propaganda. Pakistan's record of systematic violation of rights and its decades-long sponsorship of terrorism provides enough material to make it impossible for Pakistan to change the narrative, but India cannot take all this passively.