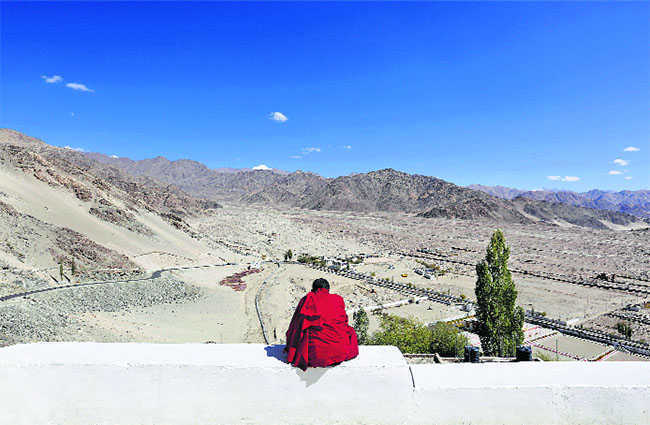 harinder@tribunemail.com
Ladakh is on course to get 'tribal area' status as the ministries of Home, Law and Tribal Affairs and the National Commission of Scheduled Tribes have endorsed a proposal in this regard. The development will help to allay local residents' fears about their region being overrun by outsiders following the Centre's decision to make Ladakh a UT. With tribal people accounting for 98 per cent of its population, major demographic changes are a definite no-no as these can wreak havoc on Ladakh's distinct identity, culture, economy and ecology. It is imperative to bring the region under the Sixth Schedule, which provides for the administration of tribal areas in Assam and three other Northeastern states after setting up autonomous district and regional councils. This step can go a long way in safeguarding vast tracts of the long-neglected territory from land sharks.
The outreach is a means of rewarding Ladakh, which elected its first-ever BJP MP in 2014 and did an encore this year. Even as the NDA government, which completed 100 days on Sunday, is busy wooing the Ladakhis, it has its hands full in the Kashmir valley. Over a month after the abrogation of Articles 370 and 35-A, it is still premature to call the historic move an unqualified achievement of the Modi regime. The euphoria over the Centre's decision to take the bull by the horns has unmistakably petered out amid the prolonged lockdown. The real picture at ground zero will emerge only when the curbs are lifted in toto.
Apart from the Kashmir imbroglio, it is economic slowdown that has kept the government on tenterhooks in recent weeks. Alarmingly, the GDP growth rate in the first quarter of this financial year dropped to a six-year low of 5 per cent. A rollback of some budgetary proposals, transfer of Rs 1.76 lakh crore from the RBI and opening the FDI floodgates have been among the desperate measures taken to arrest the slide. PM Modi claims that 'we know how to face the challenges head-on'. The next 100 days or so would test even more severely whether this government has the courage of its convictions.