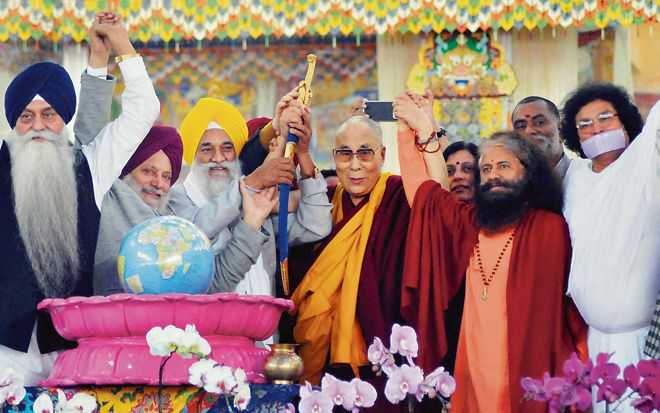 Tahir Mahmood
Tahir Mahmood
Former chairman, national commission for minorities
Upon the banner of every religion will soon be written, in spite of resistance, help and not fight, assimilation and not destruction, harmony and peace and not dissension', said a great spiritual figure of India, Swami Vivekananda, at the first Parliament of World's Religions in Chicago on September 11, 126 years ago. The pious hopes raised by that angel of peace for the ailing human world of his time were, however, belied and major religions continued with those very propensities that he had deprecated — fight, destruction and dissension.
After experimenting with the horrors of the two world wars, the West established, in quest of global peace, the League of Nations, and eventually the United Nations. In the fourth year of its establishment, the UN promulgated a Universal Declaration of Human Rights (UDHR), proclaiming equality and equal protection of law with freedom of speech, expression, belief, faith and worship as the basic rights of every individual 'without distinction of any kind such as race, colour, sex, language, religion, political or other opinion, national or social origin, property, birth or other status' (Article 2).
The UDHR was followed by several elaborative rights instruments proclaimed one after the other, including the Declaration on Elimination of All Forms of Intolerance and Discrimination Based on Religion or Belief. Promulgated in 1981, this instrument was an outcome of the concern that 'manifestations of intolerance and existence of discrimination in matters of religion or belief are still in evidence'. The decade that followed led to a realisation that there was a pressing need for another instrument to specifically protect the rights of religious minorities, and this prompted the UN to proclaim the Declaration on the Rights of National or Ethnic Religious and Linguistic Minorities in 1992. But, did these magniloquent instruments change the world for the better?
To celebrate the centenary of the 1893 Parliament of World's Religions, another similar event was organised on September 11, 1993, by the same name and in the same US city. Just eight years later, the US witnessed, ironically on the same date, an incident of extreme violence — '9/11', which opened a new chapter of religious frictions. The US has since been observing the anniversary of that fateful day.
Two years after the establishment of the UN, one of the western imperialist regimes had freed from its clutches two Asian nations — India and Palestine — but not without partitioning both in the name of religion, ugly consequences of which the continent is still facing. When the UDHR was promulgated, the newly-freed India was in the midst of drafting a Constitution for itself, and the founding fathers in their wisdom incorporated in it all substantive precepts of that historic instrument. The Preamble of the Constitution declared: 'we the people of India' had adopted, enacted and given to ourselves that charter of governance with a solemn resolution to secure to all citizens, inter alia, liberty of thought, expression, belief, faith and worship, and to promote fraternity among them all. These prefatory objectives of the Constitution were elaborated in its chapters on people's fundamental rights and Directive Principles of State Policy.
Added to the Constitution 26 years later, its chapter on citizens' fundamental duties listed among their solemn obligation duties to promote harmony and spirit of brotherhood, transcending religious, linguistic and regional or sectional diversities, preserve the rich heritage of our composite culture, and develop scientific temper, humanism and spirit of inquiry and reform. Read together, these provisions, besides implementing precepts of the UDHR and its follow-up institutions, also echoed Vivekananda's message that 'unity in variety is the plan of nature' and 'superstition is the biggest enemy of man'.
Have we, citizens of this great country, lived up to UDHR's dictate for respecting basic rights, and our Constitution's provisions regarding our fundamental rights and duties? At the parliament of religions, Vivekananda had boasted: 'I am proud to belong to a nation which has sheltered the persecuted and the refugees of all religions and all nations of the earth and to a religion which has taught the world both tolerance and universal acceptance.' Can this assertion of pride be repeated without incurring the risk of being questioned about its veracity in our time?
In evidence for a negative reply, critics can fish out a long list of events since mid-1970s, and a longer list of those of the past six years, exhibiting intolerance of the worst order emanating from blind religious beliefs and myths. We must fulfil our national obligation to register how widely they are being violated in society, in the name of religion, both the constitutionally guaranteed fundamental rights and constitutionally ordained fundamental duties, and to ponder over ways to remedy the situation.
In an apex court judgment, a great jurist-judge, the late VR Krishna Iyer, had called religion 'a terrible Satan in its decadent status when people plunge into spiritual illiteracy, miss the divine essence of the lessons of the sages, prophets and seers, and kiss the holy nonsense of my religion right or wrong and my co-religionists alone to me belong' (Abdul Hussain, 1975). Penned in utter despair, these words are as much true now, in retrospect rather truer, than when written 45 years ago.
What is happening all around us, ostensibly in the name of religion, obligates us to revive Vivekananda's idea of India as a tolerant and inclusive society, teaching lessons of social harmony to the rest of the world.