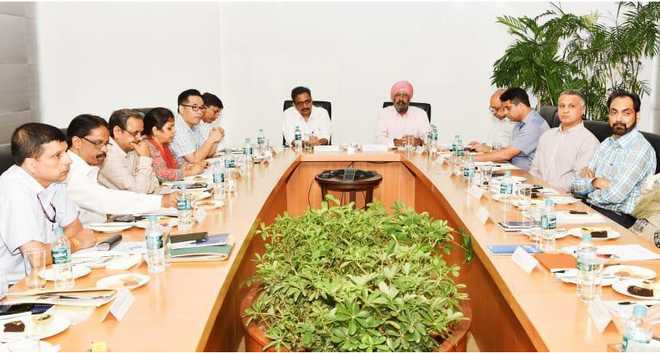 editorial@tribune.com
Ruchika M Khanna
Tribune News Service
Chandigarh, September 12
The Punjab government and inter-ministerial central team on Thursday, held a meeting to discuss damage caused due to floods in Punjab.
Punjab government's special Chief Secretary K B S Sidhu prepared a presentation on the damages caused by the sudden discharge of water in Satluj river.
The central team will now head to Ropar and Nawanshahr to assess the damage caused by the floods from September 17-19, and will visit Jalandhar and Kapurthala on Friday.
The state government has suffered damages worth Rs 1, 216.39 crore in 11 districts of the state because of the heavy discharge of water last month. As many as six persons lost their lives, 1,400 suffered injuries, over 2,400 were evacuated from areas spread over 1 lakh acres and relief has been provided to over 1,530 families.
Standing paddy crop in 794 villages worth Rs 506.06 crore; maize Rs 31.82 crore; sugarcane Rs 21.40 crore and horticulture crops worth Rs 16.44 crore were damaged in floods.
The government's memorandum to the Central team has mentioned that all tributaries of the Sutlej were in spate at 57 sites, with upstream tributaries (Sirsa and Swan) and downstream tributaries (Budhki, Sagrao and Siswan) of the Ropar headworks bringing major discharge of water in the river on August 18.
As a result, dhussi bandhs on the Sutlej, designed to withstand 2 lakh cusecs of water, could not carry three lakh cusecs of water that were discharged. In addition, after the water level in Bhakra breached the danger mark of 1,680 feet on August 19, 77,300 cusecs was released in Sutlej by the BBMB. All this caused huge devastation in the state in form of widespread floods.
The government is also expected to plead that over the period of time, the riverbeds have got silted, reducing their water carrying capacity, which also added to the trouble. As a result, the entire belt of the Sutlej, Beas and Ravi was affected by floods.
An estimate of damages in the districts of Ropar, Nawanshahr, Jalandhar, Kapurthala, Ludhiana, Moga, Ferozepur, Pathankot, Gurdaspur, Amritsar and Tarn Taran shows that 260 villages were affected by floods with even dairy and poultry suffering huge losses of nearly Rs 1.78 crore.
About 900 houses were damaged, 630 completely washed away, causing a total loss of Rs 6.26 crore. Almost 2,871 km of link roads in villages, 417 km of highways and 75 bridges were washed away or damaged (loss Rs 178.83 crore).
Initial Assessment
6 persons died
1,400 injured
2,400 evacuated
1,530 families provided relief
Rs 506-crore paddy crop damaged