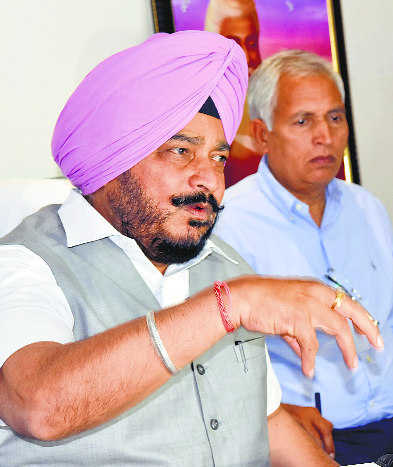 editorial@tribune.com
Gurminder Singh Grewal
Khanna/Samrala, September 11
Forest Minister Sadhu Singh Dharamsot today demanded the arrest of former Pakistan lawmaker Baldev Kumar, who arrived in India a month ago. He said the antecedents of the Tehreek-e-Insaf (PTI) leader should be verified as sending him to India could be a ploy of Pakistan spy agency, the ISI.
Highlighting that the ISI was trying to foment trouble in India and Punjab through different means, he said the government should investigate the matter thoroughly to find out the truth. He termed the matter as suspicious. Speaking on the sidelines of a function organised at Malwa College Bondli, Samrala, he called Baldev a "nakli Sikh".
Dharamsot said according to information Baldev was a Hindu, but now he was posing as a Sikh, thus raising doubts about his plans.
The minister said Baldev should be sent back to Pakistan if found innocent and arrested if found to be involved in any anti-social activity. Dharamsot demanded his custodial interrogation to find out the truth as Pakistan was trying to fuel fire in India since long.
Appealing to the Centre to conduct an inquiry into the matter before deciding his case of political asylum, Dharamsot said Baldev and his family had been residing in Pakistan for the past 72 years and now they were talking of political asylum in India. Alleging threat to life, the former lawmaker had sought asylum in India. Kumar (43), residing with his family at his in-laws in Khanna, arrived in India a month ago. He holds a visa till November.
NGOs oppose Baldev's plea
Amritsar: Activists of Hind-Pak Dosti Manch and Folklore Research Academy, Amritsar, have appealed to the Centre not to give shelter to Pakistan national Baldev Kumar due to his alleged dubious past.
Releasing two identity cards of Baldev, one having his clean shaven image and another with a beard and supporting turban, Folklore Research Academy chief Ramesh Yadav and media secretary Rajinder Singh Attari claimed that he was named in a murder case in 2016. "He was named in a case pertaining to killing of Sikh activist Suran Singh on April 22, 2016. We believe that he has come to India under a conspiracy," they said.