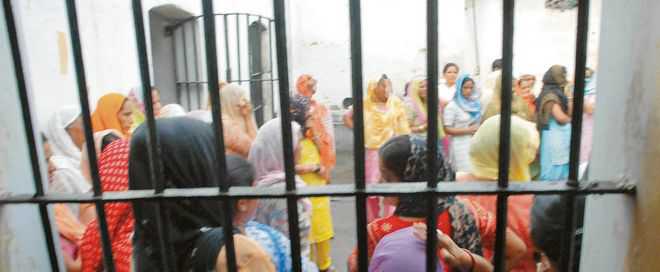 SY Quraishi
SY Quraishi
Former Chief Election Commissioner of India
On September 5, the Election Commission (EC) sent a proposal to the Law Ministry, expressing its keenness on expanding the ambit of postal ballots to allow non-government employees on election duty to vote. These include people working in the areas of transport, aviation, shipping, medical and fire services, journalists involved in the coverage of elections, besides the aged and physically challenged. To quote the letter, "It is necessary to explore all avenues to enable exercise of franchise by all eligible voters."
This is a welcome proposal, consistent with the commission's motto of 'no voter left behind'. In this context, I would like to highlight another section of the population which is in need of the same intervention — the 4.3 lakh prisoners languishing in Indian jails and considered by law as 'ineligible'.
In May, a public interest litigation (PIL) was filed in the Delhi High Court challenging the constitutionality of Section 62(5) of the Representation of the People (RP) Act, which states: "No person shall vote at any election if he is confined in a prison, whether under a sentence of imprisonment or transportation or otherwise, or is in the lawful custody of the police: Provided that nothing in this sub-section shall apply to a person subjected to preventive detention under any law for the time being in force."
It keeps convicts, undertrials and those in temporary police custody on the same pedestal, violating the cornerstone principle of the criminal justice system: "innocent until proven guilty." As a result, even the undertrials, ie 68 per cent of the prisoners, do not have the right to vote.
I see another legal anomaly: how can anyone be punished (denied the voting right and deprived of the fundamental rights of liberty, freedom of movement, freedom of occupation and right to dignity) without conviction? What makes it even more unpalatable is the fact that those in jail can contest election.
The Law Ministry's stand all these years has been that the right to vote is a statutory right created under the Act and, therefore, subject to reasonable restrictions. But in PUCL & Ors vs Union of India (2013), voting has been defined as a medium of expression. As a result, it is protected under the fundamental right of freedom of expression — Article 19(1)(a) — enshrined in the Constitution. Robbing the prisoners of their right to vote, while they retain their status as citizens, renders them as second class. It amounts to 'civic death' of the individual.
Guilty or marginalised?
A study of the composition of the prison population reveals a stark positive correlation with their level of disadvantage. An overwhelming 65.8 per cent convicts and 65.5 per cent undertrials belong to the OBC, Dalit and Adivasi categories. Muslims comprise 15.8 per cent and 20.9 per cent of convicts and undertrials, respectively. There seems to be no incentive to legislate in their interest. It is no wonder that prison reforms have not seen the light of the day.
As a result, jails are a hub of unspeakable suffering, riddled with overcrowding and unnatural deaths. The right to choose their representatives can usher in prison reforms faster than any other intervention. Additionally, humane conditions of living are an essential prerequisite for rehabilitative justice.
International trends
In 1999, South Africa's constitutional court, while ruling on the subject, stated, "The universality of the franchise is important not only for nationhood and democracy. The vote of each and every citizen is a badge of dignity and personhood. Quite literally it says that everybody counts."
In some countries, retention of prisoner's franchise serves as the basis of their status as citizens. For example, in France, Costa Rica, South Africa and Australia, a person does not automatically lose his right to vote when he is incarcerated.
The argument that voting is not just a symbol of representative democracy but also a way citizens voice their problems has been underlined in the majority judgment on prisoner disenfranchisement legislation by Canada's highest court. It said that denying the right to vote, even in the case of longest-serving sentence, is unjustified; it is a right that is "fundamental to our democracy and the rule of law and cannot be lightly set aside."
Around the world, countries are accepting this idea: Bernie Sanders, one of the candidates for the upcoming US presidential elections, is pitching for prisoners' right to vote. Countries like Israel, Japan and Sweden let prisoners vote, subject to varying degrees, ie felony disenfranchisement is conditional and not absolute. Germany encourages its prisoners, except for the ones engaged in electoral crimes, to participate in the electoral process. Hong Kong has lifted the ban on right to vote for prisoners.
The European Court of Human Rights (ECHR) has delivered judgments in support of prisoner enfranchisement, asking the UK to amend its laws to abide by the judgment. As per the ECHR, "Barring prisoners from voting may harm rehabilitation work since participating in elections may encourage them to become law-abiding and responsible citizens."
Towards solutions
Since the prisoners come from a wide range of constituencies, polling booths are not feasible. A simple solution is postal ballots which are being proposed by the EC for other sections of voters.
According to Section 20 (8) of the RP Act, those using this facility at present include members of the armed forces, paramilitary forces and those serving abroad in our diplomatic missions, besides elections staff on duty outside their constituencies. This provision is proposed to be extended to all non-resident Indians (NRIs). It can simply be extended to other sections of the population (as proposed by EC), including prisoners, by amending Section 60 of the RP Act, 1951 and the Conduct of Election Rules, 1961.
The commission's proposal is yet another step in its consistent efforts over decades aimed towards inclusive elections. Hence, it does not serve well to discriminate against prisoners living in miserable conditions which are unlikely to change unless they are empowered with the voting right.
I hope that the Election Commission and the Law Ministry will consider extending this facility to prisoners as well to ensure that the fundamental right to equality is upheld in the true spirit of democracy. And, 'no voter is left behind'.