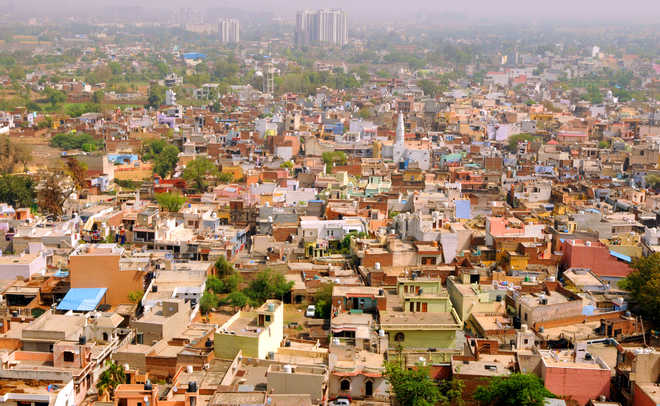 vinaymishra188@gmail.com
Traditionally known for its hot springs, Sohna has come a long way. Once a hamlet, it is now a satellite town of millennium city Gurugram.
Situated some 25 km from Gurugram, the road to Sohna is lined with corporate high rises, yet-to-be-completed condominiums and a number of educational institutions. The glitz however fades away the moment you enter the town.
Just like Gurugram district's other Assembly segments Badshahpur and Pataudi, Sohna has much potential which lies ignored .
The elections are yet to be declared but the town is already abuzz with election fervour. Posters of ticket aspirants and probable candidates adorn almost all roads, pillars and even autos. Local leaders have been in the poll mode since last month and have been mobilising support by holding small public and community meetings. The poll activity got heightened when Chief Minister Manohar Lal Khattar's Jan Aashirwad Yatra passed through the area. Though the local BJP legislator Tejpal Tanwar faces a strong anti-incumbency sentiment, he's confident of a win, seeing the saffron surge during the yatra. As in other segments of the district, the residents however lament the lack of choice before them.
"A majority of the local issues which ailed us in 2014 exist even now but we don't see any party meeting our demands. A majority of the villages in Sohna block are unhappy with the local representative," said former sarpanch Ranveer Singh Chowdhary. Locals talk of non-redressal of issues like lack of industrialisation and job opportunities, poor health care and supply of drinking water. The segment also lags in quality higher education.
The segment is mainly inhabited by Rajputs, Gujjars and Yadavs, who supported MP Rao Inderjit Singh in the parliamentary elections.
Legislatorspeak
"No matter what the Opposition says, people know the development seen by them in the last five years. The long-pending projects like the Kundli Manesar Palwal Expressway were completed. We have provided a transparent and accessible governance, and micro issues too got prominence. The success of Jan Aashirwad Yatra has made us sure of a record mandate." — Tejpal Tanwar, BJP
Oppositionspeak
"Development of Sohna, demands of people, their aspirations and expectations remained completely ignored in the last five years. Nobody talked about broken roads, schools that needed an upgrade, and poor law and order. The local representative was never there for his own people and never stood up for them. People are fed up and want someone who is there for them" — Rohtash Bedi, Congress leader
Total voters
2,24,057
1,19,898 Men
1,04,159 Women
Cities