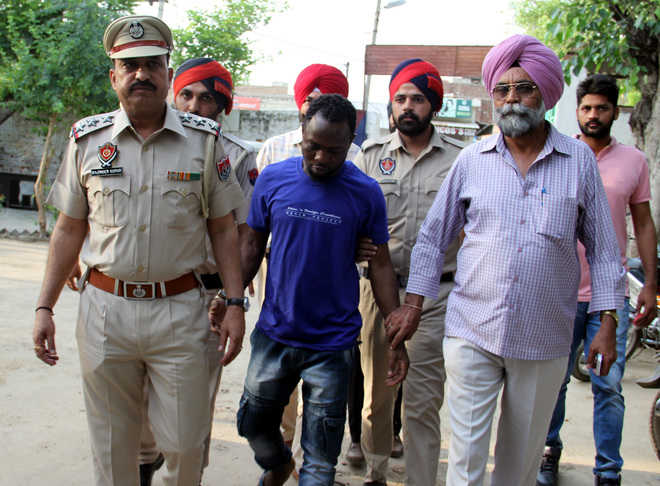 editorial@tribune.com
Tribune News Service
Bathinda, August 10
A Nigerian has been booked by the Bathinda police for peddling of heroin. The police have also arrested two other Nigerians in the past four months.
They have been living in New Delhi and were arrested from there. One of them had come to India for studying and the second for business.
It is cleared to the police that heroin was being supplied in this region from New Delhi.
No big recovery has been made but the police say that they have broken the first supply line and would now catch big fish.
The special task force (STF) for drugs has also taken details from the police about the accused.
4 held with 70-gm heroin
Today, the CIA-1 wing arrested four persons with 70 gm of heroin from Patiala Fatak.
During interrogation, they revealed the name of Nigerian Cheeku, now living in Delhi. The police have started the process to arrest him.
Rajinder Kumar, in-charge of the CIA-1 wing of Bathinda police, said their team received a tip-off about heroin peddling.
Led by Kirpal Singh, they arrested Ravi Verma, a resident of the Amrik Singh road area, Rajat Garg, a resident of Sarabha Nagar, Love Jindal, a resident of Parasram Nagar, and Jatinder Kumar, a resident of Vishal Nagar.
The accused had come into contact with Cheeku and accused purchased heroin from him to sell it in the region.
The main accused Ravi Verma, who is serving 10-year imprisonment at the Central Jail in an NDPS case, was out on parole. His parole period would have ended on August 30, Rajinder Kumar added.
A case has been registered at the Kotwali police station against the five accused under the NDPS Act. A team has been sent to Delhi to arrest Cheeku.
Before this, the CIA-1 wing had arrested Amma Phoona Basil alias Ojho, a Nigerian, on April 18 in case of 500 gm heroin recovery and Franck Chris Bensal on June 9 and recovered 200 gm heroin. Both of them were arrested from New Delhi.
SSP Naveen Singla said, "We will share the details with the Delhi police and soon a joint operation will be launched after the approval of senior officials."