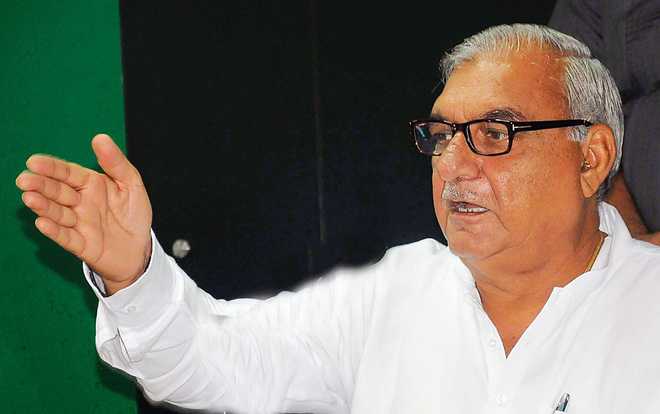 sanjiv@tribunemail.com
Elevated as the Leader of Opposition on the eve of Assembly elections in Haryana, former CM Bhupinder Singh Hooda is perceived a de facto CM face. Along with newly appointed state president Kumari Selja, Hooda is busy preparing the Congress for the upcoming challenge. In an interview with The Tribune, he spoke of the party's poll preparedness and prospects. Excerpts of interview with Sushil Manav.
How well do you think is the Congress prepared for the coming Assembly polls?
We have been working among people for the past five years, taking up people's issues at all fora. We have held kisan sammelans, vyapari sammelans and rallies. People of the state are waiting to throw the government out. All sections, particularly the farmers, have been hit by the policies of this government. The cost of production has gone up with the rising input costs but farmers are not getting adequate MSP. We are certain the people will vote us back to power.
What will be the Congress poll plank these elections?
We will contest on the basis of the Congress government performance in 2009-2014. Under the Congress, Haryana was number one in per capita income, per capita investment and in sports. During our time, 22 of the 38 gold medals in the Commonwealth Games were won for the country by Haryana sportspersons. Before the Congress came to power in 2005, electricity used to be a big issue, but with the setting up of four thermal plants and a nuclear power project, we made power a non-issue. The Congress government opened NIFT at Panchkula, National Institute of Design at Kurukshetra, Kalpana Chawla Medical College at Karnal, the National Institute of Food Technology at Sonepat, India's first defence university at Gurugram and many more educational institutes. Let the present government tell us of a single institute opened in the past five years. Unemployment is up from 2.8 per cent to 8.8 per cent. Law and order is in a shambles.
The BJP is eyeing 75-plus seats. Your reaction?
They can set whatever target they want. But eventually it is for the people to decide. The BJP claims it has brought transparency in jobs even though the Haryana Staff Selection Commission chairman had to be removed because of corruption. They boast of 18,000 Group D posts, but the fact is youths with MBA and PhD were appointed as peons and maalis. They are now quitting jobs and those who actually deserved the posts have been left out.
How do you explain BJP's performance in the Lok Sabha polls? The ruling party won all 10 seats. Your son Deepender Hooda was defeated on his home turf. Why do you think there will be a turnaround?
Elections for the Lok Sabha were contested on different issues. When people voted for the BJP then, they voted for PM Narendra Modi, who succeeded in making Balakot airstrikes a poll issue. Now people will vote for or against the performance of Khattar government.
Leaders from all political parties are joining the BJP. Your party's state mahila chief Sumitra Chauhan too has joined the ruling party. How do you explain this?
Most of those who have joined the BJP are from the INLD. I had predicted the INLD's disintegration almost five years ago when its leader Abhay Singh Chautala and his MLAs were seen functioning as BJP's B-team during the Assembly proceedings. I cannot comment on Chauhan's decision.
Former state Congress chief Ashok Tanwar is sulking for his removal. Former CLP leader Kiran Choudhry is not too happy. Kuldeep Bishnoi is keeping away from the new team. How will a faction-ridden Congress go to the polls?
We are one. There are no differences among Congress leaders. I met Kiran Choudhry only the other day. We will go to the polls as a team and there are no differences whatsoever.
What will be the criteria for ticket allocation?
Winnability and party loyalty. Representation to all sections will also be kept in mind.
How many seats do you think the Congress will win?
We will form the next government and will have enough numbers to do so.
There was talk of you having met BSP chief Mayawati for a pact. Are you still in touch with her?
As of now, there are no talks with the BSP or any other political party. We will contest all 90 seats on our own.
Who do you see as your main competitor?
Our contest is only with the BJP. No other party is in a position to put up a fight against the ruling party.
Do you consider the INLD or the JJP as a challenge?
(Laughs) Do the INLD and JJP exist now ? The people have rejected these parties.