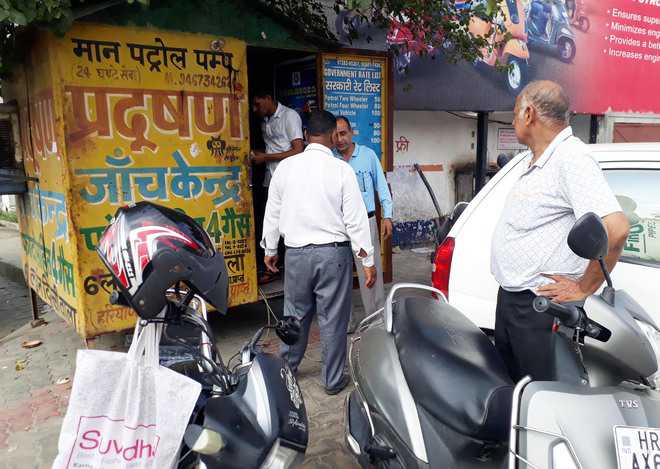 editorial@tribune.com
Parveen Arora
Tribune News Service
Karnal, September 10
Even after the directions of the Supreme Court and later by the Ministry of Road Transport and Highways (MoRTH), not a single pollution checking centre in Karnal has reportedly been linked with the "Vahan" database — a central depository set up by the Centre to store data related to all vehicles. These directions had been issued to check violations and fake certificates issued to commuters.
In Karnal, a majority of the pollution checking centres are reportedly issuing certificates without a proper mechanism. Sources say the centres do not have the machines verified by government-approved research centres and issue certificates without verifying the pollution level of vehicles.
"I went to a centre to get pollution under control (PUC) certificate for my diesel car, but the operator issued me a certificate without even checking the pollution level of my car. He just clicked the photo of my car's number plate and issued me a certificate without inserting pollution level checking pipe in the silencer. I was surprised that what kind of pollution he checked. There should be a proper mechanism and the government agencies should keep a vigil on them," said Dr Rajat, a city resident.
Anish Yadav, Additional Deputy Commissioner-cum-Secretary, RTA, admitted that none of the 83 pollution centres in the district had been registered with the "Vahan" database.
He also acknowledged that some of the centres did not have proper mechanism and issued certificate without verifying the pollution level.
"It came to my notice that some of the pollution checking centre owners are issuing certificates without proper checking. We have been keeping a vigil. We issued challan to four centre owners today for violating norms," he added.
For the linking of centre with the "Vahan" database, they have issued directions to all centre owners and gave them a deadline of September 15 or action would be initiated against them.
On August 10, 2017, the apex court had issued directions to MoRTH to link all pollution checking centres with the "Vahan" database, following which the MoRTH had issued notification for the amendment in the rule of the Central Motor Vehicles Rules, 1989, on June 6, 2018, for linkage of PUC with "Vahan" database. As per the directions, all pollution checking centres had to be linked with the "Vahan" database in Delhi-NCR area by June 1, 2018, while in rest of Haryana by October 1, 2018.
The directions say every PUC issued from the pollution checking centre should be linked with the "Vahan" database to register the emission-related data, so that no fake certificate could be issued to any person.
For the data linking, the pollution checking centre owner would be given a user id and password by the Regional Transport Authority (RTA) and there would be a uniform fee and certificate across the country.
Cities