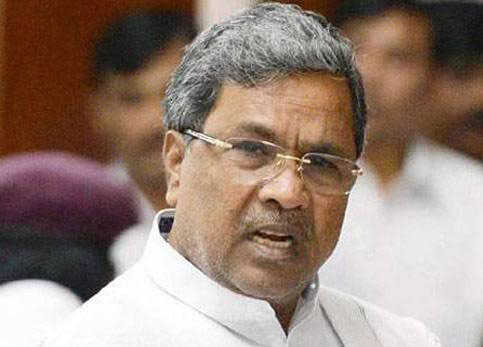 uttara@tribuneindia.com
Bengaluru, July 7
There is no threat to our coalition, television channels quoted former chief minister Siddaramaiah as saying on Sunday, as internal political crisis pushed the ruling Congress-Janata Dal (Secular) alliance to the brink.
A day after some 13 Members of Legislative Assembly from both parties gave their resignations to Speaker Ramesh Kumar, the former chief minister stepped in to attempt reconciliation.
"Our government is intact. I am trying to talk to MLAs," he said.
"This clearly shows that BJP is behind all these defections. It is 'Operation Kamala'. Everything is fine. Don't worry. Government will survive, there is no threat to the government," ANI quoted Siddaramaiah, the Congress Legislature Party (CLP) leader in Karnataka, as saying.
Press reports however appeared to prove otherwise—10 of 13 MLAs who had resigned are reportedly currently staying at a hotel in Mumbai. The MLAs are believed to have left in a chartered plane within hours of their resignations.
Meanwhile, hectic parleys are underway to pacify a dozen Congress and Janata Dal-Secular (JD-S) rebel legislators to withdraw their resignations and save the coalition government in Karnataka, an official said on Sunday.
"Senior leaders in both the parties are holding talks to address the concerns of the rebels and ensure they withdraw their resignations. However, they are unable to contact and convince them as about 10 of them flew to Mumbai on Saturday evening," a Congress-JD (S) spokesman said.
At the Congress office, party's state unit in-charge KC Venugopal, has been discussing talking to the rebels with Congress Legislature Party (CLP) leader Siddaramaiah, Deputy Chief Minister G Parameshwara, state working President Eshwar Khandre and senior party leader Mallikarjun Kharge.
"Venugopal spoke to senior rebel legislator Ramalinga Reddy, assured him to address his concerns and advised him to withdraw his resignation. Reddy has also been urged to contact the other rebels and convince them to withdraw their resignations," the official said.
Nine Congress and three JD-S lawmakers submitted their resignations to Assembly Speaker KR Ramesh Kumar on Saturday, expressing lack of confidence in the coalition government leadership.
The nine Congress rebel MLAs are Pratapgauda Patil (Maski), B.C. Patil (Hirekerur), Ramesh Jarkiholi (Gokak), Shivram Hebbar (Yellapur) Mahesh Kumatahalli (Athani), Ramalinga Reddy (BTM Layout), S.T Somashekar (Yeshvantpur), Munirathna (RR Nagar) and S.N. Subba Reddy (KGF in Kolar).
The three rebel JD-S MLAs are AH Vishwanath (Hunsur), N. Narayana Gowda (KR Pete) and Gopalaiah (Mahalakshmi Layout).
Of the Congress rebels, Somashekar and Munirathna, loyalists of Siddaramaiah, want the latter to be made chief minister again. Both were ministers in the previous Congress government, Siddaramaiah headed from 2013 to 2018.
"In the JD-S, party supremo HD Deve Gowda held talks with the party's newly appointed state President KK Kumaraswamy and PWD Minister HD Revanna at his residence to make rebels Gopalaiah and Narayana Gowda withdraw their resignations," party spokesman Ramesh Babu said.
Both the allies are waiting for the return of Chief Minister HD Kumaraswamy by Sunday night from a week-long private visit to the US to explore a Cabinet reshuffle for inducting some of the rebels like Reddy and Patil by dropping a couple of Congress ministers.
The Speaker told reporters on Saturday that he would look into the resignations of the rebel legislators on Tuesday, ahead of the Monsoon session of the state legislature from July 12.
Though Jarkiholi had sent his resignation on July 1, it was not accepted by the Speaker, as it was faxed to his office, which is against the procedure.
Congress legislator Anand Singh from Vijayanagara segment had also resigned on July 1. As he personally handed over his resignation letter to the Speaker, his office acknowledged receiving it.
As the legislators could not meet the Speaker at his office in the state Secretariat, they met Governor Vajubhai Vala in Raj Bhavan and apprised him of the reasons for their resignation.
Congress party's top leadership in Delhi also went into a huddle on Saturday. After a meeting of senior leaders in Delhi, Congress leader Randeep Surjewala said: "The Karnataka government that is a joint government having complete majority under our democratic setup is now being sought to be pulled down by a spate of defections and resignations. MLAs are being bought in broad daylight. Democracy is being denigrated in broad daylight. Constitution is being trampled in broad daylight in Karnataka by the ruling BJP government at the Centre".
While the Congress blames the latest developments on rival Bharatiya Janata Party, a leader of the saffron party said on Sunday it was Congress party's attempt to overthrow Chief Minister HD Kumaraswamy.
ANI quoted Union Minister Prahlad Joshi as saying on Sunday: "The Congress party as a whole is trying throw out HD Kumaraswamy. It's Congress party's game plan to out HD Deve Gowda and family. Siddaramaiah is responsible. Also some senior Congress leaders are involved in it".
Siddharamiah was a prominent leader of the Janata Dal (Secular) and was known to be close to Deve Gowda until they fell out over Kumaraswamy's leadership of the party. He left the party for the Congress in 2006.
Congress party's Karnataka "troubleshooter" DK Shivakumar met JD(S) leader Deve Gowda in Bengaluru on Sunday to discuss the unfolding developments. JD(S) leaders HD Revanna, D Kupendra Reddy, HK Kumaraswamy, and DC Thammanna also joined the meeting.
ANI quoted Shivakumar as saying after the meeting: "They have (JD-S) called a meeting of their party leaders. We'll also call our party leaders and sort out this issue. I'm confident things will cool down immediately. In interest of nation and both parties we have to run government smoothly. I'm confident MLAs will come back".
Although dramatic developments of the last two days have shown an escalating situation, rumbles within the party are not entirely new. In the shaky 13 months that this government has been in power, instances of deep cracks within the tenuous coalition were seen last January when the Congress sequestered some MLAs in an unknown resort after accusing the BJP of poaching in what it called "Operation Kamala".
The BJP, and its former chief minister BS Yeddyurappa, denied any involvement, both then and now. Although the BJP has made no secret of the fact that it was waiting in the wings to quickly stake claim once this government collapses, Yeddyurappa has repeatedly claimed it was the Congress party's treatment of its legislators that has brought on the current situation.
He said in statements on Saturday: "As we have said earlier, our party has nothing to do with the resignation of Congress and JD-S legislators from their assembly seats. You have to ask them," Yeddyurappa, BJP's state unit president, told reporters here.
Reiterating his party's stand, Yeddyurappa said the resignations were expected in view of the disgruntlement in many legislators of the ruling alliance with the way their year-old coalition government was functioning.
"As we said all along, the allies had no mandate to form a coalition government after the Congress lost in the assembly elections last year. They contested against each other, but formed a post-poll alliance only to keep our party out of power," he said.
Though Yeddyurappa formed the government on May 17, 2018, he resigned on May 19, 2018, as the BJP, which won 104 seats then, fell 8 short off the halfway mark (113) for a simple majority in the assembly.
The BJP's state unit has decided to wait for the Speaker's decision on the dozen resignations, including one by Congress lawmaker Anand Singh who gave his letter to Ramesh Kumar on July 1.
"We will see what happens next week in the run-up to the 10-day monsoon session of the legislature from July 12. Though we decided to not to press for a trust vote, a floor test will become inevitable for the trail of strength if the Speaker accepts the resignations," Yeddyurappa said on Saturday. Agencies