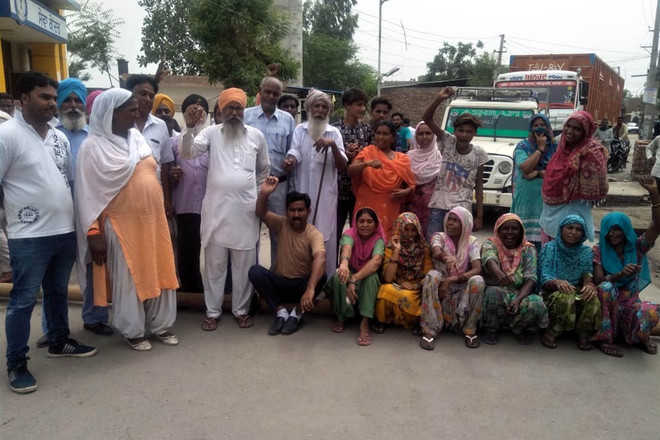 editorial@tribune.com
Tribune News Service
Bathinda, July 15
Unhappy over not getting the water supply for the past few days, residents of Sanguana Basti staged a protest by blocking a road near the Sanguana pond here on Monday. They also raised slogans against the Municipal Corporation and the Water Supply Department.
Residents of the trans-railway line area faced problem due to the protest which continued for a few hours. The protesters announced that they would continue to hold the protest till the time the wire of a tubewell, which supplies water to their area, is changed.
The police also reached the spot to monitor the situation.
During the protest, councillor Santosh Mahant, Mohinder Singh, Pritam Singh, Mukhtair Singh and Kaur Singh said due to the negligence of the MC and Triveni, residents of the area were paying the price as they had not been getting the water supply fir the past many days. They said residents had to pay taxes continuously, but small faults were not repaired for many days.
The protesters said they had not been getting the water supply for the past 10 days. They added that they had lodged complaints with officials, but to no avail.
The protesters added that they were facing problems, whereas officials of the MC, Triveni and the Water Supply Department were sitting in their air-conditioned offices. They do not have time to resolve problems of the residents, they added. Later, officials of Triveni changed the wire and the protesters called off their protest.
They also threatened to stage a protest against the MC in future if they would face the problem again. Congress councillor Sanjay Biswal was also present in the protest.