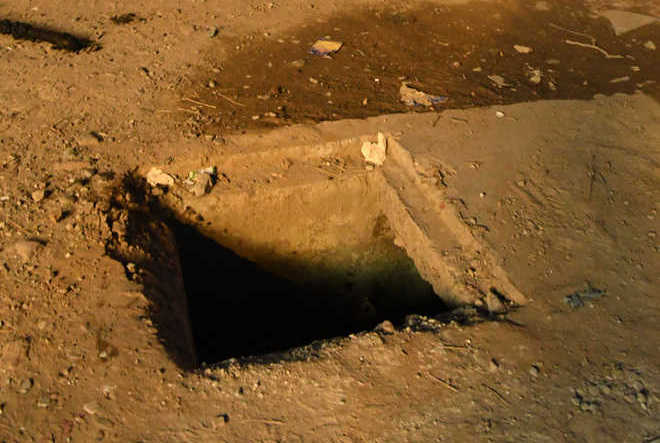 Sandeep Rana
Tribune News Service
Chandigarh, June 22
It seems the UT Administration and the Municipal Corporation here have not learnt any lesson from the shocking case of two-year-old Fatehveer Singh, who had fallen into a 150-foot-deep borewell in Punjab and was bought out dead after 109 hours recently.
Even though the authorities earlier claimed that they had not found any open borewell in the city, several open manholes and road gullies continue to pose a threat to the lives of people.
A 20-foot-deep manhole near Axis Bank in Sector 34-A is lying open for the past several days. Traders say they have contacted the authorities concerned to get it covered but to no avail.
"It is a market place and has a high footfall. We caution passersby, especially children, about this open hole. To alert people, we keep a branch of a tree in it. We do not want anyone to accidentally fall into it," said Raman Kumar, a local resident.
An uncovered manhole in Hallo Majra poses a threat too but the authorities are yet to wake up.
Likewise, several road gullies are lying open in different parts of the city. Road gullies are maintained by the MC. After repair or maintenance work, these are left uncovered. The MC workers return to cover these after a long delay.
During a random check, open road gullies were noticed on the roads separating Sectors 35 and 22 and Sectors 33 and 20.
Hitesh Puri of the Chandigarh Residents Associations' Welfare Federation said, "The MC should cover all such open manholes. It should be done before monsoon. During rains, these will be filled with rainwater and people will not be able to spot them."
Deputy Commissioner Mandip Singh Brar and Chief Engineer Mukesh Anand were unavailable for comments.
Mayor Rajesh Kumar Kalia said, "There may be a few such cases. I will get it checked and direct officials to get such manholes and road gullies covered."