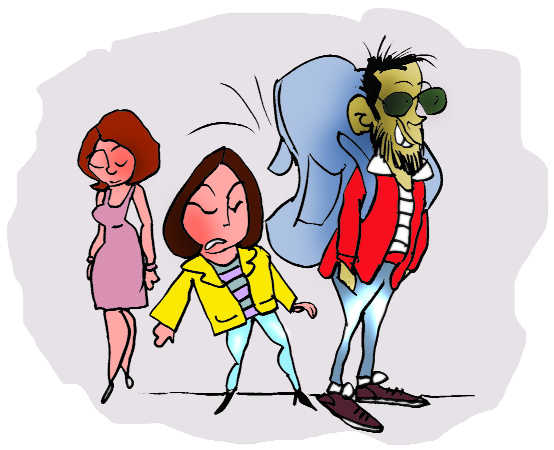 editorial@tribune.com
Aradhika Sharma
When Mandy came into the cafeteria today, we all gasped with shock! One side of her face was bruised and blue. She looked awful!
"Gosh Mandy, what happened? Did you walk into a wall or something?" Shobha asked.
"Let me guess: You went to one of those crowded weekend sales and got socked by a mad shopper!" Sabrina ventured.
"Looks like you've been in a catfight or in an accident and emerged the worse from both" I remarked.
"No, no, nothing of the sort. This happened just this morning as I was coming up to office in the lift!" Mandy said.
"How come?"
"A guy with a killer backpack did it!" Mandy replied, nursing her face. "The doors to the lift had almost closed when one hairy fellow thrust his foot in barged inside."
"I hate it when people do that!" Sabrina responded. "They delay everyone in the lift!"
"Yes, well, the lift was super crowded anyway. Hairy Harry had a huge backpack on his back. He then swung around to face the door of the life and slap, bang! His haversack whacked me on my face. I literally saw stars!"
"Gosh! People don't realise they're carrying lethal weapons on their backs," I added.
"Upar se, he pivoted to reach across the lift to press the button to his floor, shoving that smelly backpack into my face again. I stopped the backpack with my hand this time and said, 'Excuse me, can you please be careful with your backpack? It's hurting me.' And you know what he said?"
"Didn't apologise…" I ventured.
"No chance! He snarled at me, saying: 'If you have a problem with people's backpacks, why don't you take the stairs?'"
"How rude!" exclaimed Sabrina. "Waise, I've noticed that most people who carry massive backpacks in crowded elevators or subways are completely oblivious to the discomfort they're causing people around them. There should be some rules!"
"Yes, they'll carry heavy haversacks which take up almost as much volume as another human, not even bothering to put them on the floor. The rest of the janta has to cower in a corner to save itself from the bulky bludgeon," Shobha added.
"The practical thing would be to place the backpack on the floor and hold it between your legs or carry it off by the center hold. Lowers the risk of blinding and maiming people," Mandy agreed.
"Equally bad are people who put their rucksacks on the seat next to theirs in packed buses or airports or waiting areas, splaying their stuff across the two empty seats next to them!"
We ate in silence for a few moments thinking radical thoughts about the ruffian rucksacks. Sabrina broke the silence saying: "Waise, if the elevator is full, the people behind the backpackers should have the right to rifle through the contents of the knapsack he's ramming into them."
They should put up a notice in the lift that states: "Unload your pack and spare us a whack!" Mandy said.
We agreed completely!
All readers are invited to post comments responsibly. Any messages with foul language or inciting hatred will be deleted. Comments with all capital letters will also be deleted. Readers are encouraged to flag the comments they feel are inappropriate. The views expressed in the Comments section are of the individuals writing the post. The Tribune does not endorse or support the views in these posts in any manner.