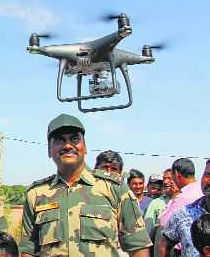 vinaymishra188@gmail.com
Anirudh Gupta
Ferozepur, October 8
The security forces along the India-Pakistan border went into a "tizzy" after drones originating from the Pakistan side were spotted along the Hussainiwala border last night. At one point, a drone ventured a kilometre inside the Indian airspace.
This comes amid recent reports of use of drones by Pakistan-based terror groups to airdrop sophisticated arms and ammunition aimed at fomenting trouble in Punjab.
Sources said troops of BSF's 136 Battalion spotted high-flying drone-like objects five times between 10 pm and 10.40 pm and later at 12.25 am last night. A drone was first spotted four times on the Pakistan side before it ventured a kilometre inside the Indian territory near border outpost 'HK Tower' close to the Hussainiwala joint check post, around 9 km from district headquarters. Before it returned to the Pakistan side, its light and sound could not be traced for a brief period. Another drone was spotted near border outpost 'Basti Ram Lal' around 12.25 am on the Pakistan side. The BSF troops with help of Punjab Police conducted a search operation in the area, but couldn't find anything suspicious.
Since Ferozepur border is closely guarded by the BSF and has an Army formation too, the Pakistan agencies were apparently trying to conduct aerial surveillance or were up to some mischief, said an official.
"The information has been shared with senior officials and an alert has been sounded," said the official. The BSF has started sensitising locals about alerting the police or BSF authorities if anything unusual is sighted near the zero line.
Sources said following the abrogation of Article 370 in J&K, Pakistan's spy agency ISI was trying to push Khalistani terrorists into Punjab.
Recent seizures
Sept 24 The BSF/STF seize five AK-47 rifles, 10 magazines, 200 rounds, a Glock pistol, 22 magazines and 20 rounds from Mamdot area of Ferozepur
Sept 22 Terror module busted and five AK-47 rifles, four .30 bore pistols, nine hand grenades, five satellite phones dropped by drone seized in Tarn Taran
Sept 12 A consignment of four AK-56 rifles, two AK-47 rifles, besides over 10,000 bullets seized from a truck at Lakhanpur in J&K's Kathua