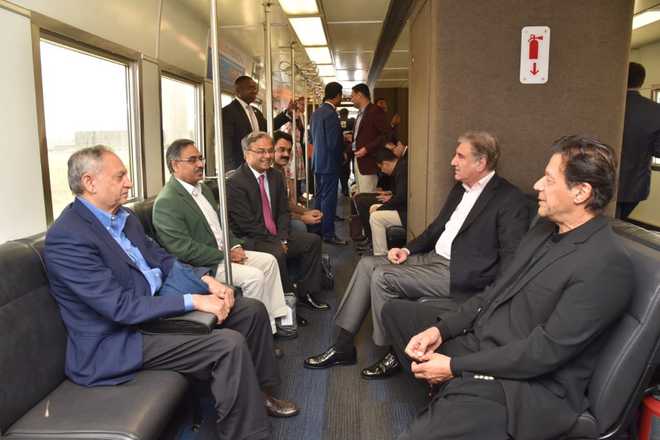 kavishakohli@gmail.com
Tribune Web Desk
Chandigarh, July 21
Pakistan Prime Minister Imran Khan arrived in Washington on Saturday afternoon on a three-day official trip to the US.
He was welcomed at the airport by his foreign minister Shah Mehmood Qureshi.
Khan, however, is now being trolled for being snubbed by the Trump administration. Several people on Twitter have claimed that Khan was not recieved by any official of the US adminstration.
Foreign minister receiving his own prime minister in foreign land, is the new protocol for Naya Pakistan. https://t.co/nf3GBxVcsZ

— Naila Inayat नायला इनायत (@nailainayat) July 21, 2019
.
No US official were present to receive PM @ImranKhanPTI at IAD airport. Neither IK recieved any state protocol. pic.twitter.com/WP1rV8XfjG

— Fawad Rehman (@fawadrehman) July 20, 2019
I know Pakistan didn't do very well in the World Cup, but this seems a harsh punishment. https://t.co/l16Uo8PQGQ

— Derek Willis (@derekwillis) July 20, 2019
Hahahahahahahahaha https://t.co/aXXQ98B9q5

— Gul Bukhari (@GulBukhari) July 20, 2019


Wait. Pakistani PM Imran Khan had to take one of those horrible people-movers at Dulles airport??
(no sign of Gen. Bajwa in the arrival video) pic.twitter.com/TGxSLqqj3Z

— Tanvi Madan (@tanvi_madan) July 21, 2019
Don't feel bad @ImranKhanPTI if no one came to receive you. Our truck is ready to pick you up and drop you at the White House. It can fit your whole delegation too! #EndEnforcedDisappearances #Balochistan pic.twitter.com/eF3pjzcHuI

— Abdul Nawaz Bugti (@Abdul_Bugti) July 20, 2019
Khan, 66, is scheduled to meet US President Donald Trump at the White House on Monday during which the American leadership will press him to take "decisive and irreversible" actions against terrorist and militant groups operating from Pakistani soil and facilitate peace talks with the Taliban.