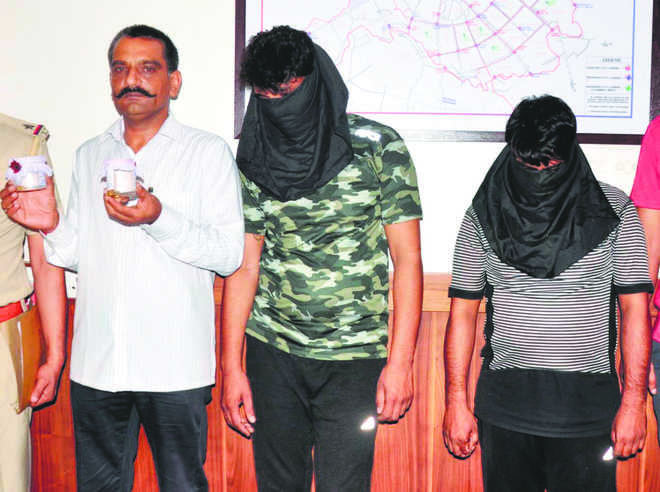 editorial@tribune.com
Tribune News Service
Panchkula, July 17
The CIA staff of the local police today claimed to have arrested two snatchers against whom over four dozen cases have been registered in Punjab, Delhi, Haryana and Chennai.
Those arrested are Ashok Kumar (35) and Rajeev Kohli, both residents of Shamli district in UP. The police recovered two chains and a motorcycle from them.
DCP Kamal Deep Goyal said they were involved in the chain snatching in Sector 27 on July 9 when they targeted a native of J&K. He said the police had got CCTV footage of the two suspects, who were nabbed at Majri Chowk on July 14 when they were returning from Amarnath Yatra. He said they were produced in the court, which remanded them in police custody till July 19.
Goyal said during investigation, it came to light that Ashok had been booked in over 50 snatching cases across the country, including 27 in Delhi, nine in Chandigarh, one each in Panchkula and UP, 10 in Gurugram and seven in Mohali. He said Rajeev was booked in six cases in Delhi and three in Chennai. He said both of them lived a lavish lifestyle after carrying out snatchings. They had booked a Duster SUV to pay obeisance at the Amarnath shrine.
The DCP said while going to J&K, the duo had carried out snatchings at Gangoh in Saharanpur and Panchkula. He said the suspects revealed that they had snatched gold chains of two women in Sector 11 and 7 on June 3 and June 14 and cases had been registered at the Sector 5 police station.