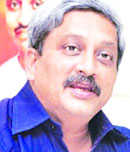 editorial@tribune.com
Ajay Banerjee
Tribune News Service
New Delhi, December 31
Indicating a major policy shift in the working of the Ministry of Defence (MoD), Defence Minister Manohar Parrikar is looking at removing cumbersome procedures to hasten acquisition of equipment, take total control of the border road organisation, allow agents of foreign suppliers and ask the MoD-owned public sector companies to put in more efforts at production.
Speaking to mediapersons, Parrikar signalled that the Sukhoi-30Mki fighter jets — costing Rs 358 crore each, or almost half the expected cost of the French Rafale — were enough for the Indian Air Force. "It (the Su-30MKI) is an adequate aircraft for meeting the Air Force's needs," said Parrikar, adding that negotiations with the French had some complications. The French Dassault Aviation's Rafale fighter was selected in January for the 126-plane medium multi-role combat aircraft (MMRCA).
The Tribune had reported in its edition dated December 1that Dassault was reluctant to accept the responsibility and stand guarantee for the 108 of the jets to be built by MoD-owned Hindustan Aeronautics Limited. On policy changes, Parrikar said: "Changes will be made to the Defence Procurement Policy. Company representatives will be allowed but commission, or percentage of profit for the deals will not be allowed. The representatives have to be registered with the ministry and remuneration shall be declared by the company," he said.
A draft of the changed policy is ready and the final draft will be ready in the next few days and the process will be completed in 45 days. "The interests of the military would be taken care off". The Minister gave an example that Bharat Earth Movers Ltd (BEML) has been allowed to deal with the original Tatra company and not Tatra UK, which was banned following allegations of kick-backs.
Parrikar said the Border Road Organisation would be brought fully under the Defence Ministry and non-sensitive roads in border areas will be handed over to the National Highways Authority of India. The BRO is presently jointly held by road transport and defence ministries. While the former allocates funds, the latter has executive control.
Explaining the need to induct high technology to make tunnels at faster pace Parrikar said. "The way tunnels are being made, I don't think we will complete even in 15 years". The MoD while answering a querry during the just-ended session of Parliament had said the BRO was entrusted with the task of building 61 roads of a total length of 3,410 kms along the India China Border. It has completed only 17 roads, of length 590 kilometres.