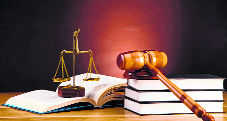 editorial@tribune.com
Saurabh Malik
Tribune News Service
Chandigarh, September 11
The alleged plight of a polio-stricken man today reached the Punjab and Haryana High Court after he claimed that he was called to his daughter's school to clean up a table on which she spilled a dish while taking her midday meal even though he could not walk.
Seeking initiation of action, his counsel Ranjan Lakhanpal said such type of atrocities were unknown to a civilised society. Lakhanpal said the petitioner belonged to an extremely poor family and was 75 per cent physically challenged.
He could not move on his legs and his daughters were tortured and insulted by the teachers of the government school because of the circumstances and poverty. Elaborating, he said on December 17, last year, his daughters were rebuked by a teacher as they were not doing well in their studies.
They were also forced to call the parents, knowing fully well that the petitioner would have to come to the school virtually on his hands.
Lakhanpal said the petitioner visited the school several times but was not allowed to meet the principal and the teachers. He was told that the principal and the teachers were busy and he could come some other time. The petitioner made a number of complaints to the authorities concerned to take action in the matter as the treatment given to his daughters amounted to corporal punishment, which was punishable under the Right to Education Act.
"The respondent school has committed excesses upon the petitioner and his daughters, who are studying in the school, and they have been subjected to cruelty, both physically and mentally," Lakhanpal said.
The petition was placed before the High Court Bench of Justice Tejinder Singh Dhindsa. After hearing Lakhanpal and going through the contents of the petition against the Chandigarh Administration and other respondents, Justice Dhindsa fixed the case for October 16.