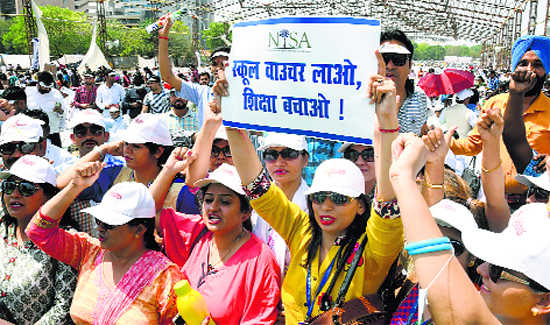 sanjiv@tribunemail.com
Ananya Panda
Tribune News Service
New Delhi, April 7
Representatives of private and aided schools, also known as budget private schools, from across the country today gathered at Ramlila Ground here to discuss, among other issues, the situation arising out of "delayed reimbursements" of expenditure for admissions under the EWS quota of the Right to Education Act, 2009.
Under the joint banner of the National Independent Schools Alliance (NISA) and National Coalition of School Education, they also demanded scrapping of the compulsory renewal of recognition" to be secured by recognised schools once every three years and cried foul over varying conditions of education boards (state, CBSE, CISCE) to be met by schools for seeking affiliation as in the case of Delhi.
As per the section 12 of Right of Children to Free and Compulsory Education Act, 2009, 25 per cent reservation of the total seats is mandated at the entry level in all private schools, barring minority institutions, for weaker sections and disadvantaged groups. The state government foots the education costs per child computed and reimburses the per-child spending notified by the government taking into account the recurring expenditure of private schools.
Since the legislation came into being, managements of private schools have been pressing for amendments to the law, including altering the infrastructural requirements for seeking recognition claiming inputs-driven parameters have closed thousands of schools.
Teachers and parents from such private educational institutions were here to discuss the issues in a "Shiksha Bacaho Abhiyan" rally and put pressure on the government to meet their demands, including shifting to learning outcome-based school recognition system instead of infrastructure-based norms.
"Fund students and not schools," they asserted in a charter of demands addressed to PM Narendra Modi noting that currently the government while making budgets, calculates costs per child but while allocating and spending budgets, funds are routed through bodies such as education departments and schools.