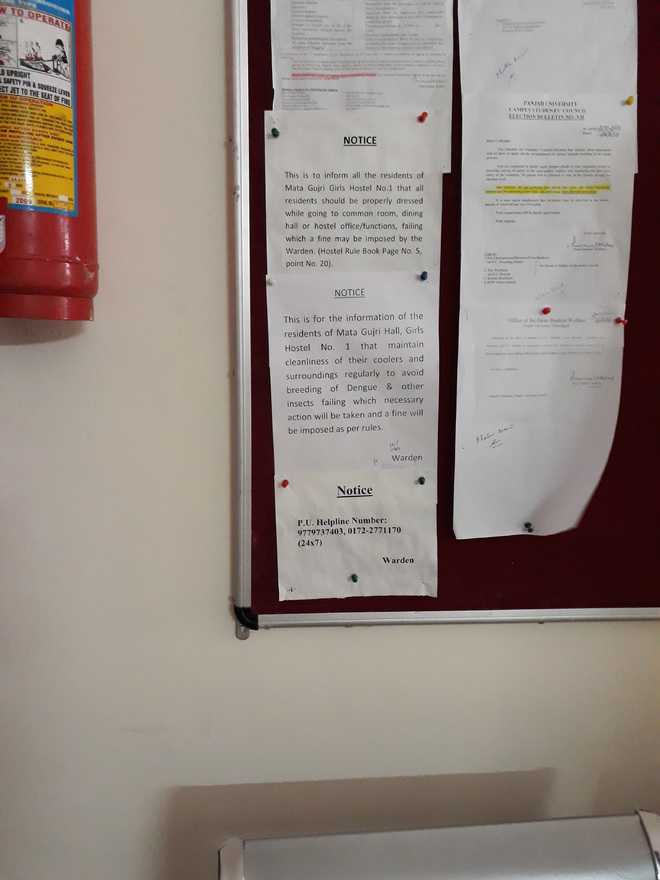 editorial@tribune.com
Bhartesh Singh Thakur
Tribune News Service
Chandigarh, September 7
Girl students are upset and up in arms over a notice displayed at a girls' hostel in Panjab University, asking girls to be properly dressed.
The notice reads, "This is to inform all residents of Mata Gujri Girls' Hostel No. 1 that they should be properly dressed while going to the common room, dining hall or hostel office/functions, failing which it will be considered an offence and a fine may be imposed as decided by the warden."
It has been mentioned that the notice is as per the hostel rule book page number 5, point number 20.
When The Tribune checked the hostel prospectus, the "properly dressed" condition is mentioned as part of responsibilities of a student.
A girl student, who is a fresher, said, "This is quite degrading for girl students. Can the hostel authorities explain what is meant by being properly dressed?"
Another student said on condition of anonymity, "Will they now check dress of every resident? I do not know when these rules were framed. It is regressive."
Asked, Asst Prof Suman Mor, warden, said, "We display this notice whenever the new session starts. The rules have been approved by the Senate and Syndicate of the PU. We put up notices on important matters only."
The Dean, Students Welfare (Women), Prof Neena Caplash, said, "In the mess area, workers are male. We have to see our culture too. The description of being properly dressed differs from person to person. Though, we do not prescribe a dress code." Hassanpreet Kaur, Students for Society (SFS) spokesperson, said, "Some girls have complained to us. I took up the matter with the warden too. No one comes to the mess in undergarments. How will they define descent dress? The staff of the hostel are into moral policing anyway. If someone comes late, they threaten that they would report to the parents. They are also pointing out girls who come in shorts. It is regressive."
On Thursday, PU students created history when they elected Kanupriya of the SFS as their first woman president of the students' council. She couldn't be contacted for comments.
The president of the Panjab University Teachers Association (PUTA), Prof Rajesh Gill, said, "The notice is arbitrary and regressive."
The notice
"This is to inform all residents of Mata Gujri Girls' Hostel No. 1 that they should be properly dressed while going to the common room, dining hall or hostel office/functions, failing which it will be considered an offence and a fine may be imposed as decided by the warden." — Notice