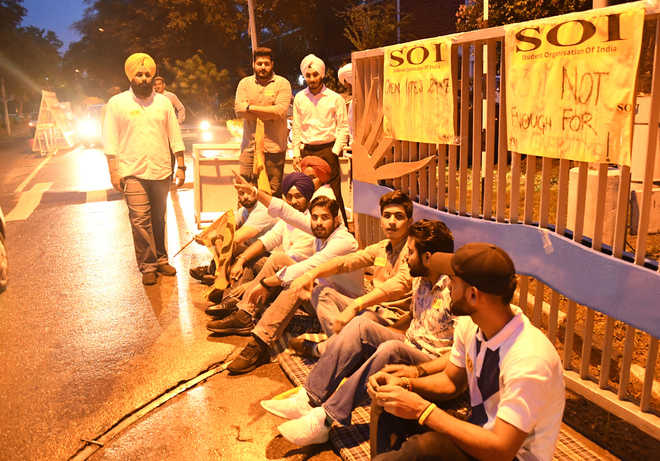 editorial@tribune.com
Tribune News Service
Chandigarh, August 17
Quoting the 40th American President, Ronald Reagen, representatives of the SOI (Student Organisation of India) protested against the current situation in Panjab University and resisted the "unnecessary fortification" of its campus on Friday night.
They demanded that the PU authorities should open Gate No. 3 throughout the day and night. The university authorities agreed to their demands after the party supporters blocked Gate No. 3.
"There are no constraints on human mind, no walls around the human spirit, no barriers to our progress except those we ourselves erect," they said, pointing at the iron barriers erected at every nook and corner. Chanting slogans of 'Azadi' (freedom), they voiced their demand of keeping the university gates open and accessible to all students.
Their demand voiced concerns of students residing in PU's Sector 25 (or South Campus), opposite Gate No. 3, as they found it difficult to access the varsity's all-time open AC Joshi Library on the North Campus (in Sector 14). The Gate No. 3 connects both the campuses.
"The SOI party's protest is aimed at making Gate No. 3 accessible to south campus students," said party supporters. The party also demanded air-conditioners in common room of boys' Hostel No. 8 and ply e-rickshaws at night so as to facilitate commuting of South Campus hostellers, especially girls.