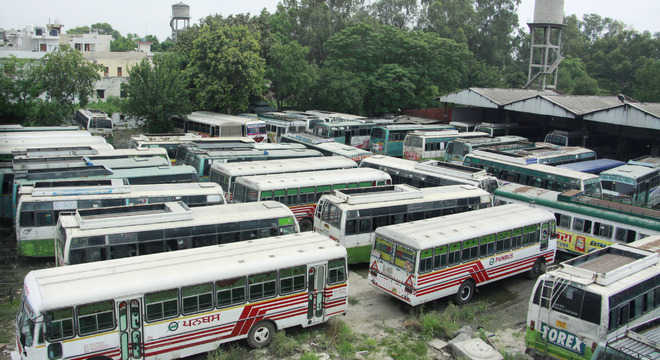 ROBINSINGH@TRIBUNE.COM
Tribune News Service
Jalandhar, July 17
Private bus operators had a field day as several Punbus buses remained off road for the second day due to a strike called by the Punjab Roadways Punbus Contractor Workers Union.
Confining the buses to local depots, the employees went to the residence of State Transport Minister Aruna Chaudhary in Gurdaspur.
Jalandhar president of the union Daljit Singh said during the previous protest, the minister had stated that "workers working with the Punjab Roadways are not registered workers. Instead, they are labourers. Hence, all workers were fuming in anger and asking for an apology."
The protesting workers demanded that the authorities should conduct a meeting to resolve all their pending demands. On June 25, the Transport Minister had assured that a meeting would be conducted with the roadways' presidents, but nothing happened in this regard, said Jasbir Singh, secretary, Punjab Roadways, Jalandhar.
Notably, from the beginning of this year, this is the sixth strike conducted by the roadways' workers and the agitated workers had given an ultimatum to the Transport Minister that a three-day strike would be observed from July 16 to 18, if a meeting to resolve their pending demands won't be conducted. However, Daljit said the authorities had agreed to conduct a meeting on July 26.
Their demands included implementation of Supreme Court's guidelines of equal wages for equal work and the Punjab and Haryana High Court orders regarding the cancellation of driving permit of 12,210 private buses and regularisation of contractual workers.
Besides, the secretary added, that demands had also been made for covering workers under the Punjab Pension Scheme, loan waiver of Punbus and DA to be given to all drivers and conductors.
Top Stories