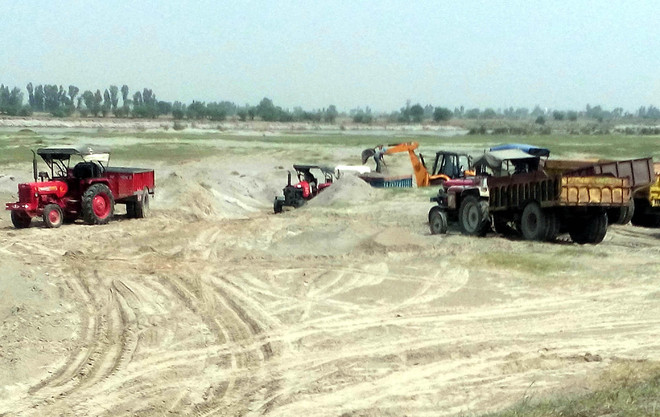 Sanjeev Singh Bariana
Tribune News Service
Ramsinghwala (Ferozepur), April 28
The mining mafia continues to dig into the Sutlej riverbed here as the authorities concerned have failed to tighten the noose around the culprits.
The Tribune team today visited the site at Ramsinghwala and found more than 10 tractor-trailers, not bearing any registration number and being filled by a JCB machine, moving tonnes of sand illegally in the absence of any checks by the police or the local administration. The site is around 8 km when one turns left from Arif Ke on the Ferozepur-Malanpur highway. From the riverbed, the sand is moved to specified dumps at nearby places, to be sold to customers at exorbitant rates.
A major portion of the road from the highway till the mining site lies damaged due to the movement of heavy vehicles and loaded tractor-trailers.
Another JCB machine was parked about half a kilometre away from the site. The venue, serving as control tower, had a manager making deals.
The Tribune team, which posed as a decoy customer, failed to convince a mining worker who chased the team for some distance, trying to investigate our professional as well as personal background.
A resident, Shingara Singh, claiming to be a former sarpanch of the village, walked up to this correspondent and offered sand at "very nominal" charges of Rs200 per trailer.
"We are not bothered about any permission. You handle that. We have a 30-acre tract of land on the bed where you can come and take your sand," he said. The sand is available around Rs5,000 per trailer at nearby dumps and other purchase centres.
Top News
Over 3,000 tourists from various parts of country reported t...
Third top leader of AAP nabbed by a central agency in a year...
Bench led by Justice Sanjay Kishan Kaul directs Centre to fu...
Indian javelin star threw 88.88m, a season's best, to clinch...
Agency alleged Kapoor received money for performing at the w...