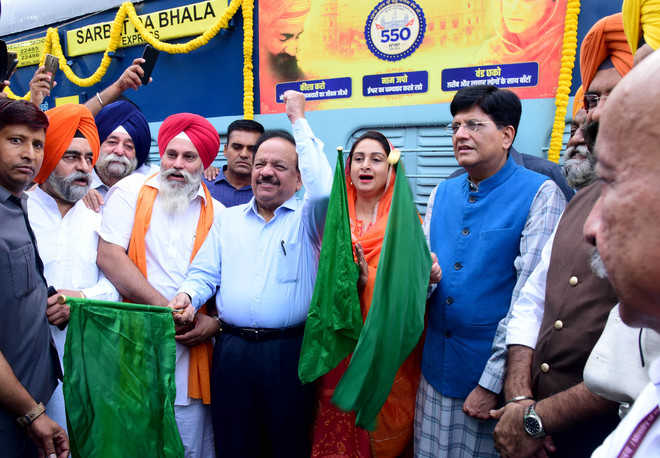 Tribune News Service
New Delhi, October 4
A new 'Sarbat da Bhala' Express connecting New Delhi to Ludhiana up to Lohian Khas via Jalandhar was flagged off today as part of 550th birth anniversary celebrations of Guru Nanak.
Minister of Railways Piyush Goyal, Minister for Health and Family Welfare, Science and Technology and Earth Sciences Harsh Vardhan, Minister for Food Processing Industries Harsimrat Kaur Badal and other dignitaries flagged off the extension of train number 12037/ 12038 New Delhi-Ludhiana Intercity Express up to Lohian Khas (via Jalandhar) with new name 'Sarbat da Bhala' Express.
Highlighting that the new train would serve the Sikh pilgrims visiting Sultanpur Lodhi on the 550th birth anniversary of Guru Nanak, Goyal added that the teachings of Sikh master should be followed in our lives. "This is the important step by the Railways as it will provide connectivity to pilgrims visiting Sultanpur Lodhi," he said.
Thanking the Railway Minister for the new train to Sultanpur Lodhi, where Guru Nanak spent 14 years of his life and approving the name of train "Sarbat da Bhala" which means "Goodness for all", Harsimrat said the ministry had also sanctioned upgrade of the Sultanpur Lodhi station. Trains from important Sikh pilgrim cities like Nanded and Patna Sahib have been connected to Sultanpur Lodhi
Meanwhile, former Union Minister MS Gill today said the Railway Ministry should consider introducing the Vande Bharat Express from Delhi to Amristar. He said besides reducing travel time between the two cities, the Railways can benefit from the huge passenger traffic since Amritsar remains one the most popular destination for tourists.