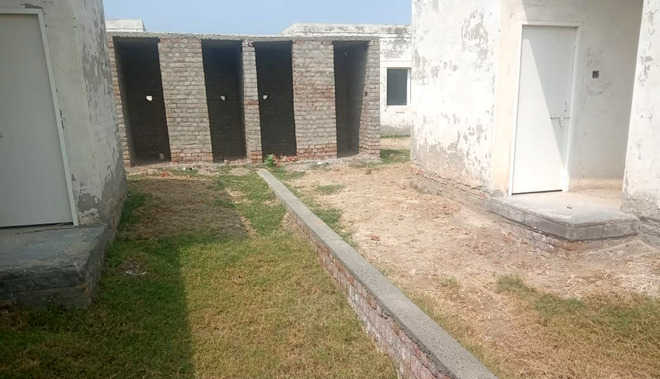 Archit Watts
Tribune News Service
Lambi (Muktsar), September 10
The construction of a residential colony started by the previous SAD-BJP government during its regime in 2016 for over 200 poor families at Fatehpur Manian village is still hanging fire. Reason: The funding for the project was stopped after the change of guard in 2017.
In 2016, the previous SAD-BJP government had started the housing project at Fatehpur Manian village of Lambi tehsil, former Chief Minister Parkash Singh Badal's home turf. The executing agency, Punjab Mandi Board, even spent nearly Rs 5.75 crore within a year but after the Congress came to power in the state in 2017, the funding of this project was stopped. As a result, the construction work is incomplete and beneficiaries are yet to get the possession of two-room houses.
At present, the buildings in this residential colony are in a dilapidated condition and the plaster is falling off the walls. Further, the washrooms are yet to be completed and power fittings pending.
Parkash Kaur, sarpanch, Fatehpur Manian village, said, "I am not aware about the present status of funds, but the building is not in a good condition. It doesn't even look new. Besides, some work is still pending. A number of poor people are waiting for the completion of this residential colony to get free houses. Total 216 units had to be made, but the work on just 206 was started. The previous panchayat had given the land for this colony."
However, Bikram Bansal, Executive Engineer, Punjab Mandi Board, said, "The construction was started in 2016 and more than 90 per cent of the work is complete. We have spent nearly Rs 5.75 crore, but the state government released just Rs 4 crore. We are yet to pay nearly Rs 1.75 crore to the contractors. We don't have the funds to complete the remaining work. Thus, the work has been stopped for the last two years."
Talking about the poor state of the residential colony, Bansal said, "When a place is not being used for a long period, it is obvious that its condition will deteriorate. Further, this area is also affected by waterlogging. Now, we are preparing a revised estimate for completing the work."
On the other hand, a senior official in the district administration said the Punjab Mandi Board officials after utilising Rs 4 crore, even spent over Rs 1 crore by converting the Rural Development Fund and the matter was being probed. "When the work was started, the estimated total cost of this colony was Rs 5.82 crore," the official added.
Meanwhile, speaking over the phone, former Chief Minister Parkash Singh Badal said, "We had started a number of projects for the welfare of the poor, including the construction of houses and some colonies. However, the Congress after coming to power stopped the funding of some projects. The residential colony at Fatehpur Manian is also one such project. No work has being carried forward during the present government's regime."