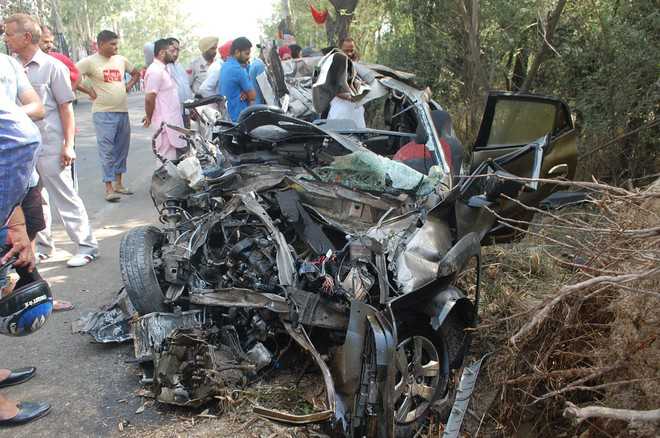 Tribune News Service
Jalandhar, May 14
Five persons, including two children, were killed in a road accident near Khatti village in Phagwara today.
The deceased were identified as Vikas (41), Shikha (37), Reena (42), Raghav (10) and Manav (7). Reena's husband Surinder Kumar (46) and Vikas's eight-month-old daughter Shivaka had a miraculous escape. Both sustained injuries, but their condition is said to be stable. Reena and Shikha, both sisters had gone to pay obeisance at Chintpurni along with their family.
Phagwara Sadar SHO Lakhbir Singh said a truck bearing registration number PB10T 9031 was going to Hoshiarpur, while the car with registration number PB10FN 2968 was coming from Chintpurni to Ludhiana. The vehicles collided near Khatti village, 4 km short of Phagwara. As the car hit the diesel tank of the truck, it busted and the truck caught fire. While five of the car occupants died on the spot, the driver managed to flee.
The car was crushed badly and it took several hours to extricate the bodies. The police have sent the bodies for a postmortem examination. A case has been registered against the truck driver, who is not yet identified.
Man dies, son hurt in mishap
Moga: Amar Singh (48) of Mahla Kalan village died while his son was seriously injured in a road mishap on the Mudki-Baghapurana road today. Amar was riding a motorcycle along with his son Jasvir Singh (11) when a car coming from the opposite side rammed into them. Amar was rushed to hospital, but he died during treatment.
Top Stories