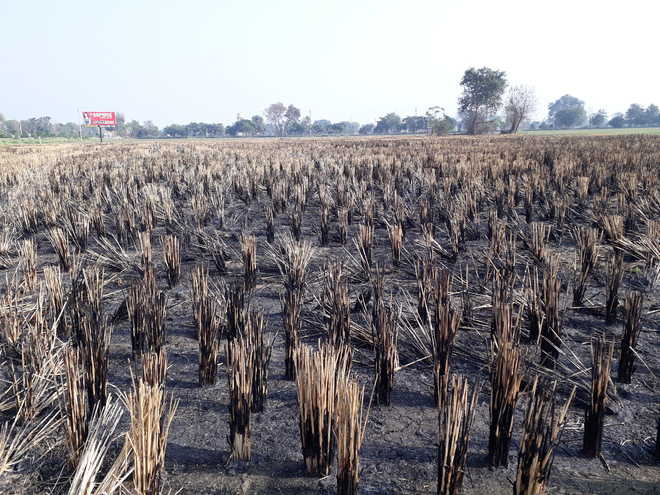 Parvesh Sharma
Tribune News Service
Sangrur, December 2
About 6,500 saplings have been destroyed in stubble fires during the last two months in the district.
The authorities of the Forest Department have asked the Agriculture Department to take action against farmers who resorted to stubble burning so as to prevent more losses in future and offered assistance in spreading awareness.
Sources said during the current financial year, the district Forest Department had planted 8 lakh saplings. But during a survey done after receiving complaints about damage to saplings planted during the recent months, the department found that stubble fires had burnt around 6,500 saplings near the national highway in the district. After identifying the areas where saplings were gutted, the Forest Department has prepared a report and decided to take up the matter with the Agriculture Department to prevent further losses in future.
"The fire has damaged 6,500 saplings near the NHin the district. However, there is no loss to any tree at any other place. We succeeded in saving small trees on canals and link roads with the help of the residents of the area. I will take up the matter with the Agriculture Department," said Monika Yadav, Divisional Forest Officer, Sangrur.
However, farmers blamed the state and the Central governments for the same despite the fact that they put the stubble on fire.
"We had to burn stubble as neither we had an alternative nor the government released money to manage stubble without burning," said Kultar Singh, a farmer from Phagguwala village.
Sangrur Chief Agriculture Officer Dr Baldev Singh said during the last two months, their teams had imposed a fine of Rs13 lakh on farmers for burning stubble.
"But this year, we saw fewer stubble fires than the last year. With our efforts, farmers used happy seeders to sow paddy in 70,000 hectares out of 2.88 lakh hectares in comparison to the last year figure of 25,000 hectares. I will discuss the issue with the DFO," he added.
Top News
The survey said the pace of price increases is not high enou...
81-year-old is currently lodged in a Jodhpur jail, where he ...
Was addressing the joint sitting of both Houses of Parliamen...
Baljinder Singh and Harpreet Deol Both are Pentecostal pasto...
135 people were killed in last year's suspension bridge coll...