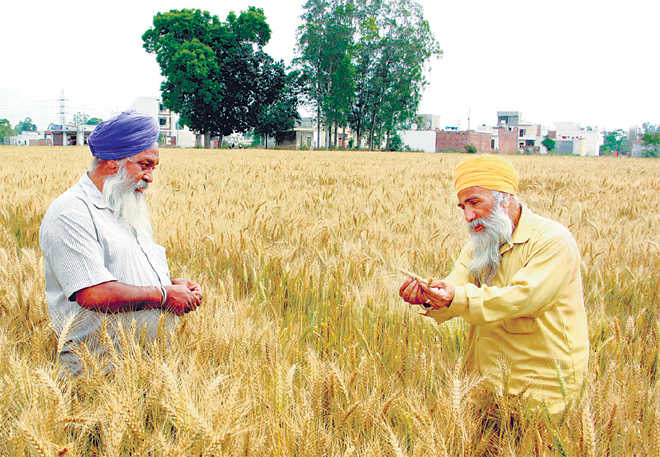 Vishav Bharti
Tribune News service
Chandigarh, June 26
Groundwater in large tracts of Punjab has become unsuitable for irrigation purposes. A study commissioned by the Centre's Department of Science and Technology has found that its over-use has led to high concentration of salts in the soil, destroying fertility.
The study, published in the Arabian Journal of Geosciences, the official journal of the Saudi Society for Geosciences, says 76 samples from all 16 districts of Punjab's Malwa belt were assessed on two international parameters — Langelier Saturation Index (LSI) and Sodium Absorption Ratio (SAR) — commonly used for assessing the quality of water for agricultural and drinking purposes.
The study found concentration of calcium, magnesium, sodium, nitrate and flourine higher than the permissible limits, rendering 80.3 per cent area of Malwa unsuitable for drinking.
"The entire region is highly contaminated with nitrate, which leaves children highly vulnerable to the blue baby syndrome," says Dr Surindra Suthar, the author of the study, an assistant professor at the School of Environment and Natural Resources, Doon University, Dehradun.
The study also found that 70 per cent of the groundwater in Malwa was unsuitable for irrigation. Analysing eastern and western Malwa separately, it found the water quality in eastern Malwa (Ropar, Patiala, Ludhiana) slightly better than in western Malwa (Fazilka, Muktsar, Ferozpur). Only 35 per cent samples in eastern and 22.3 per cent samples in western Malwa were found suitable for irrigation.
Overall, the groundwater (95 per cent in eastern and 100 per cent in western Malwa) was found to be hard with calcium and magnesium levels exceeding the permissible limits, making it unsuitable for drinking purposes as well as agricultural practices.
The continuous use of low quality water will reduce fertility, the study warns, while suggesting that Malwa needs to shift to an eco-friendly agricultural model and adopt agrochemical practices, the focus being future food security without degrading environment and human health.
"To delineate the long-term effects on soil and human health, the groundwater must go under remediation before use," it stresses.
Impact on agriculture
Presence of nitrate in irrigated water affecting crop productivity
Concentration of nitrate reduces soil permeability, affects internal drainage of soil and ultimately causes damage to standing crops
High concentration of magnesium in water affects the soil quality
It increases alkalinity and results in decreased crop yield