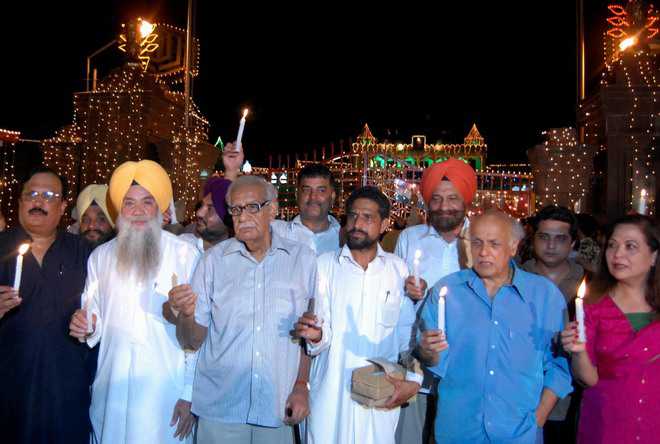 Vishav Bharti
Tribune News Service
Chandigarh, August 23
"You people may be successful one day. We, the governments, will not get anywhere," Benazir Bhutto famously told Kuldip Nayar in Lahore in 1993. Nayar, a committed peacenik, worked relentlessly for furthering India-Pakistan ties, lighting candles at Zero Line along the Wagah border on the midnight of August 14 and 15, along with his comrades, for several years.
He believed "the high walls of fear and distrust will crumble one day... it is the straw I have clutched in the sea of hatred and hostility that has engulfed the subcontinent," he wrote in his autobiography. A group headed by Nayar lit candles at the Wagah border in 1992. Soon, it took the shape of a movement. Year after year, peaceniks started gathering there. By 2011, their number had swollen to a lakh.
On the other side of the barbed wire, he was joined by Dr Mubashir Hussain, Asma Jehangir, Jugnu Mohsin and IR Rehman. And in 2009, for the first time the iron gates on the Attari- Wagah border were opened. Haunted by memories of Partition, Nayar did not hesitate knocking at the doors of Pakistan's leaders — whether those of Zulfikar Bhutto, to urge him to open trade, or his daughter Benazir's or those of Nawaz Sharif. Just before she was assassinated, Benazir told him in London that she would make the subcontinent borderless. But that was not to be.
Whether in war or in peace, Nayar's heart throbbed for Punjab. Before Operation Bluestar, he formed "Punjab Group" comprising prominent citizens Inder Kumar Gujral, Lt Gen JS Aurora, Air Marshal Arjan Singh, Justice Rajinder Sachar and Pran Chopra, to restore peace in the state, questioning human rights abuses.
---
Sad to hear of the passing away of Kuldip Nayar, veteran editor and writer, diplomat and parliamentarian, and a determined champion of democracy during the Emergency. His readers will miss him — Ram Nath Kovind, PRESIDENT
Kuldip Nayar was an intellectual giant of our times. Frank and fearless in his views, his work spanned many decades. His strong stand against the Emergency, his public service and commitment to a better India will always be remembered — Narendra Modi, PRIME MINISTER
He served the country in various capacities with great distinction. He was a veteran journalist, diplomat, parliamentarian and author. He wore many hats in his decades of public life. — Manmohan Singh, FORMER PM