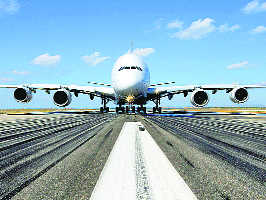 Sarbjit Dhaliwal
Tribune News Service
Chandigarh, November 28
The Union Government has given a formal approval to use the Adampur airbase for civil purpose. Disclosing this, Union Minister of State for Social Justice Vijay Sampla said following the clearance from the Union Defence Ministry, the Civil Aviation Ministry had started preparing a techno-feasibility report to take up the expansion work at the airbase.
Sampla, who was elected from Hoshiarpur Lok Sabha constituency, said Chief Minister Parkash Singh Badal He said the Air Force authorities had already given their approval for the use of their airbase for the civil purpose. However, there was a need for its expansion and some buildings needed to be constructed for civil purpose, he said. "I had a meeting with Chief Minister Parkash Singh Badal and he immediately directed the authorities concerned to do the needful," said Sampla. Hoshiarpur and Jalandhar form the NRI belt. For NRIs, Adampur is the most suitable place to fly in and fly out from the country.
"My entire effort is to make Aadampur airbase a hub for air traffic mainly from countries such as Canada, the US, the UK and Australia, where Punjabis are settled in large numbers," he said.
Talking about other modes of connectivity, he said the Union Government had already started a survey to expand the railway line network in the Hoshiarpur belt.
Besides, a train service had been started from Hoshiarpur to Delhi, he said. The Centre had also approved the four-laning of various roads in Hoshiarpur area, including the Hoshiarpur-Una road and the Hoshiarpur-Tanda road.
Top Stories