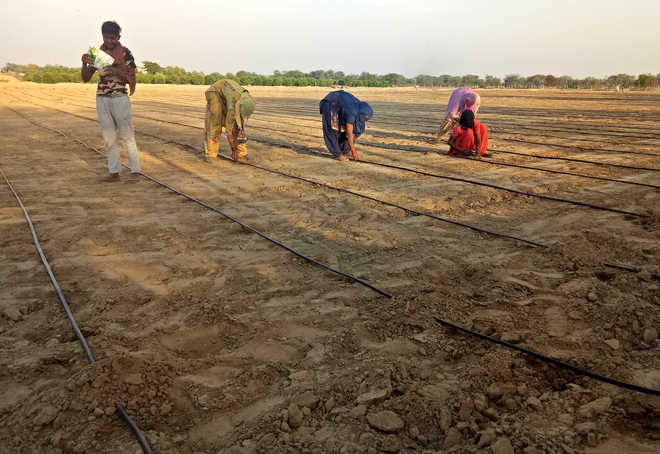 Kulwinder Sandhu
Tribune News Service
Moga, May 26
The Punjab government is encouraging farmers to adopt drip irrigation technology on cotton crop by providing a subsidy of 80 per cent on the total cost of the project.
This is being done to overcome the scarcity of power in peak summer and preserve the constantly depleting groundwater resources.
"Initially, the state government has fixed a target of 200 acres to set up demonstration plots under the project but the scheme will be augmented in the coming years," said Kahan Singh Pannu, Secretary, Agriculture Department.
The drip irrigation system is suitable for crop cultivation when irrigation water or rainwater is not enough for conventional farming. The technology, so far, has been adopted by many farmers in Fazilka, Bathinda, Mansa and other cotton-growing districts.
Punjab has crossed the mark of 3.45 lakh hectares for sowing cotton in eight districts of the Malwa belt. It is likely to cross 4 lakh hectares in the next few days, but the awareness on drip irrigation is negligible among farmers.
"We are taking up the project seriously and will try our best to bring more and more farmers under the system in the cotton belt by providing them all-possible help," Pannu said.
The Director of Agriculture Department, Suttantar Kumar Airi, and Joint Director Parminder Singh reviewed the sowing of cotton in Fazilka and Bathinda districts and said the purpose of setting up demonstration plots was to bring maximum land under drip irrigation and ensure good yield to farmers by using minimum water resources.
"Experiments conducted in many states have shown that drip irrigation also helps to curtail the expenditure on fertilizers and pesticides and improve production by 10 to 20 per cent in various crops," Airy said.
Jaswinder Singh Brar, a senior agro-scientist, said drip irrigation projects, some of them run by solar power system, had also been set up by innovative farmers to reduce the consumption of power during peak summer, particularly in the paddy season when the demand for power increases in the state.
The Agriculture Department aims to effectively apply solar-powered drip irrigation systems in the Malwa belt to it from turning into a 'desert' due to over-exploitation of groundwater resources.
Top News
BSF personnel deployed in depth areas hear the buzzing sound...
There have been signs of differences between the party and i...
The blaze erupts in the building located on Dhanji Street ne...