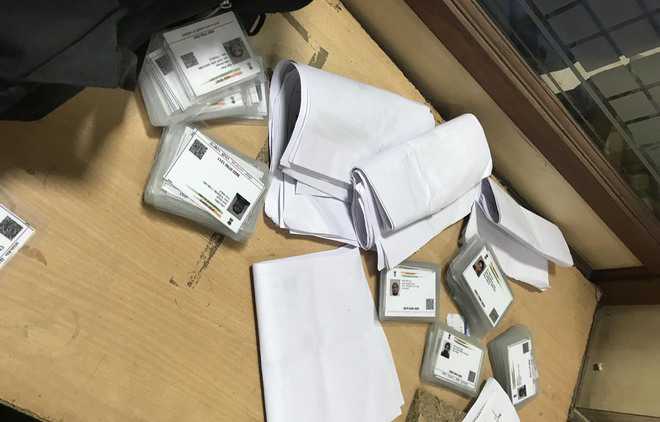 Rachna Khaira
Tribune News Service
Jalandhar, March 14
Exposing yet another chink in the UIDAI's national identity card system, a private operator working at an Aadhaar counter at the District Administration Complex here is found to have saved over 921 e-copies of Aadhaar cards in his personal laptop.
Since e-Aadhaar is a valid document, it can be used for various purposes, including opening of bank accounts in Aadhaar holder's name that can used for illegal transactions.
During a visit to the centre recently, The Tribune team found that the e-Aadhaar copies were of citizens who had come to the Suvidha Centre for getting their personal details updated. Many files saved on earlier dates, too, were found in the operator's laptop.
When asked, the operator said since he did not have a facility to print Aadhaar cards at his counter, he had to save all files on his laptop. "We take the biometrics of people, create pdf files of their Aadhaar cards and save these in our laptops. As we do not have the facility of a printer, we print it later at a shop at Khambra village," he claimed.
When asked about passwords to open these files, he said: "The password to open an Aadhaar pdf file is universal and contains the first four letters of the name and the birth year of the applicant. In fact, we usually name the files by their passwords."
Calling it a violation of the Aadhaar Act, Dr Anjuman Bhaskar, Assistant Director-cum-Nodal Officer, Registrar, UID, Punjab, said the operator could not save citizen's data on their personal machines.
"The matter is serious and will be investigated thoroughly," she said, adding that while the computers and biometric machines were provided by the UIDAI, other equipment were to be arranged by the operator.
Top Stories