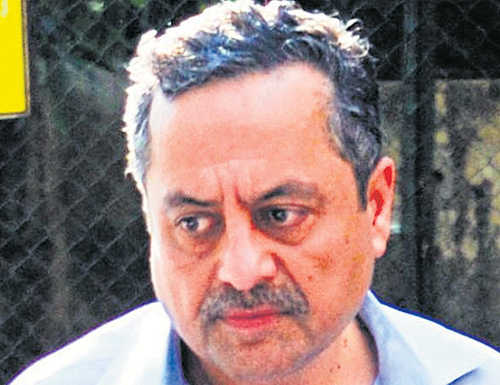 After rampant theft of Punjab's antiques and heritage, it is hard to tell what is original and what is a replica in the stock still in hold. Here is the first of the 3-part series based on a nearly 1,100-page report of the Directorate of Revenue Intelligence on how notorious antiques smuggler Vijay Nanda and his agents systematically went about the plunder, eyeing everything from Amrita Sher-Gil, Chughtai to private collections.
Vishav Bharti
Tribune News Service
Chandigarh, September 18
"Further to our conversations kindly locate in your warehouse and extract following pieces…," antiques smuggler Vijay Nanda from New York instructed his Delhi-based point person Devesh Goel through an email on July 26, 2014. The appended list included items ranging from antique brass idols to paintings by Amrita Sher-Gil and celebrated Pakistani artist Abdur Rahman Chughtai to modernist furniture of Chandigarh's architect Le Corbusier.
In the same email, he instructed Goel to "visit lady home for paintings of Amrita Sher-Gil" (sic) and the "family with Chughtai paintings". Chughtai is often referred to as the first significant modern Muslim artist from South Asia. He settled in Pakistan after Partition.
(Follow The Tribune on Facebook; and Twitter @thetribunechd)
The dossier prepared by the Directorate of Revenue Intelligence (DRI) on Nanda, a copy of which is with The Tribune, reveals that his syndicate had an eye on artefacts across northern India — from bronze statues coming out of Kashmir excavations in 2015 to paintings from the personal collection of the heir of erstwhile Nawab of Malerkotla to Sikh weapons in private collections.
The mine of email/message intercepts in the dossier will need experts from several fields to spot all that Nanda has stolen or smuggled out of the country. However, one of the shocking revelations is that some of the custodians of Punjab's museums were hand in glove with Nanda, who was arrested by the DRI on February 6 this year from his Mumbai flat. He had been receiving photographs of antiquities from Punjab and discussing international prices for years before that.
Navjot Pal Singh Randhawa, the then director of museums and archaeology, Punjab — custodian of the state's heritage, antiquities and archives — was communicating with Nanda on WhatsApp, email and phone almost on a daily basis. He was hosting dinners for Nanda and other smugglers of the syndicate at his residence in Chandigarh as well as farmhouse in Kasauli.
In a WhatsApp message on September 26, 2015, Randhawa sent photographs of a few swords and daggers to Nanda. He wanted to know the international prices of those articles. Nanda responded by saying that they were "good but not the best or the superlative quality we are looking for".
"Doesn't it mean that these daggers/swords were offered to him for sale by you?" the DRI questioned Randhawa. He responded by claiming he was on the Art Purchase Committee of Chandigarh Museum and Art Gallery and wanted to be abreast of the latest prices to avoid getting cheated. However, he had no convincing reply when the DRI asked why the museum needed international prices when all its purchases were local.
An inquiry by The Tribune from people who have served at different times on the Art Purchase Committee revealed the museum did not have any such collection of swords or daggers.
Nanda also used Randhawa as an expert on antiques. In a WhatsApp message on March 31, 2016, he asked Randhawa to evaluate a portrait of the erstwhile Nawab of Malerkotla, which was part of a private collection of the Nawab's family and some broker was offering it to Nanda for Rs 60 lakh. Within an hour, after talking to "Begum Sahiba", Randhawa got back to Nanda, "I think the original has gone. It is not hanging in the drawing room. Begum Sahiba says that it is in the store because it has got damaged. Not showing it." Randhawa advises him that the value should be around Rs 2 to 3 lakh as he had purchased a similar portrait of Nawab of Rampur for Rs 1.5 lakh the previous year.
As by virtue of his official position Randhawa had access to almost all private collections and influential individuals in Punjab. Nanda was in contact with him nearly on a daily basis. In one message, Nanda discusses Randhawa's "planned trip" to Amritsar for the weekend. "Sorry to have missed you on this trip," he says.
After one such visit in Punjab, Nanda in an email told London-based antiques dealer Runjeet Singh, who deals in Sikh weaponry, how he "saw some interesting arms in private collection in Punjab, mostly Sikh material."
Apart from hosting the smugglers, the DRI dossier reveals, Randhawa was sending antiquities to Nanda and Goel quite regularly. On December 12, 2016, Nanda conveyed to Randhawa, "The painting was delivered by courier on 10th." However, during DRI questioning Randhawa claimed he did not recall the communication.
Devesh Goel — Nanda's point person for North India based in Delhi, who was running two companies, Devesh Handicrafts and Goel Handicrafts — was regularly meeting Randhawa at his residence in Chandigarh and at farm house in Sheel village of Kasauli. Pictures of the two smugglers posing with Randhawa at the latter's residence are part of the dossier. Randhawa met Nanda four times at his office and invited him home for dinner.
Apart from interest in ancient and medieval antiquities, Nanda had since 2014 also started showing interest in the modernist furniture of Le Corbusier. Managing free access to Punjab government offices through Randhawa, Nanda was able to exploit government experts.
Masquerading as a researcher, Nanda on August 14, 2015, wrote to Randhawa's boss, Anjali Bhawra, then Principal Secretary, Cultural Affairs and Tourism, saying he wanted to write a book on Le Corbusier, Pierre Jeanneret and Charlotte Perriand. He sought permission to get access to all government offices and archives. He even demanded "single-window clearance" and the appointment of a nodal officer to facilitate his access. Subsequently, Goel sent Nanda a load of photographs of furniture related to Le Corbusier.
(PLUNDER OF HERITAGE-II: How Chandigarh lost its furniture to the world)
Top News
In the last assembly polls, held in 2018, the BJP had won on...
Draws a blank in Madhya Pradesh, Rajasthan and Chhattisgarh