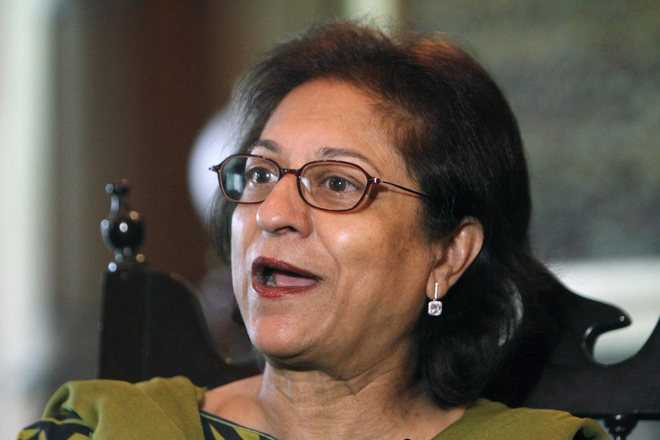 Tribune Reporters
Chandigarh/Amritsar, Feb 11
In Asma Jahangir's death, East and West Punjab have lost a towering figure who fought for solidarity between the two regions and worked relentlessly to defend the rights of religious minorities in Pakistan.
Activists who worked with her remember her as a votary of Indo-Pak peace and greater exchange between the two Punjabs.
IA Rehman, a prominent peace and human rights activist of Pakistan, hailed Asma as the country's outstanding defender of human rights. "She was the most courageous opponent of dictatorship. She was not only a champion of women's rights but also of the rights of workers, peasants and the poor. The Human Rights Commission of Pakistan (HRCP) is a monument to her commitment to uphold people's rights and entitlements," he said in a message sent to The Tribune through Punjabi writer Amarjit Chandan from the Karachi Lit Festival. Rehman also served as the HRCP director.
When it came to defending human rights, it didn't matter to her which side of the barbed wire the victim belonged to. She and fellow rights activist Ansar Burney raised their voice for the release of Sarabjit Singh, a death-row convict from Bhikiwind (Tarn Taran) who was lodged in Lahore's Kot Lakhpat Jail.
Sarabjit's sister Dalbir Kaur said she made several trips across the border and met Asma while filing mercy petitions with the Pakistan authorities or delivering documentation pertaining to Sarabjit. She recalled that Asma had sent her prompt help on one occasion when she, along with Sarabjit's wife and daughters, faced problems in meeting him in jail.
"I met her for the first time at the Attari-Wagah border and handed over Sarabjit's identification proof and bank account details to be submitted with the Lahore court. In 2008, we were to visit him, but the prison staff was rude to us and made us wait for hours. I somehow managed to contact Asma. She immediately sent one of her colleagues, Brig Rao Abid Hamid (retd), who virtually scolded the jail officials and got our appointment fixed on priority. Thereafter, the jail staff became lenient with us whenever we went to visit jail," she said.
Amritsar-based Ramesh Yadav, a member of the South Asia Human Rights, said Asma's demise would impede their joint mission of maintaining peace between the neighbouring nations.
Asma helped stranded Indians and Pakistanis return to their countries and offered help in court cases also. "I accompanied her to the Amritsar court in 2010, where she was to appear before the Juvenile Justice Board for hearing in a case pertaining to 13-year-old Mohammad Ateeq, who had accidentally crossed over into India without legal documents and was lodged in the Amritsar jail," he recalled.
She was instrumental in the formation of the HRCP in 1986. Saroop Ijaz, a lawyer associated with the Human Rights Watch, Pakistan, wrote in Dawn newspaper: "The most outstanding feature of the newly created HRCP was its overtly secular mandate. Participants of its founding seminar had passed resolutions on the protection of rights of minorities in Pakistan."
Asma remained a strong critic of the dangers of bringing religion into legislation. Osama Bin Javaid, a Doha-based journalist, shared on Twitter that Asma had once jokingly said to him, "I am happy to have my religiosity between me and God, and must continue to challenge demigods on the land."