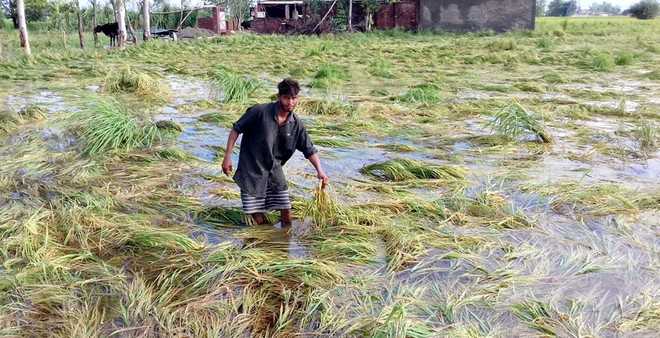 Ruchika M Khanna
Tribune News Service
Chandigarh, September 24
This was expected to be a year of abundance for lakhs of basmati growers in Punjab. The prices of both varieties grown here — PB 1121 and PUSA Basmati 1509 — were expected to fetch much higher prices as compared to last year in view of the rising exports.
But incessant rain in the past three days has dashed the hopes of the basmati growers, especially in Amritsar, Gurdaspur and Tarn Taran districts.
A special girdawari was ordered by Chief Minister Capt Amarinder Singh after initial reports received by the Agriculture Department on Monday suggested lodging of crop at many places. Excessive rain at this juncture is likely to hit the yield, bring in diseases and affect its quality and even ripening.
Farmers, who had grown PUSA 1509 early, got up to Rs 2,500 per quintal remuneration last week, while the PB 1121 variety was sold in the mandis (from the last year's leftover stock) for Rs 3,300 per quintal. It was after a gap of almost nine years that basmati was expected to fetch good returns for the farmers, hopes of which are now low as the crop is damaged by heavy rainfall in various parts of the state.
Jasbir Singh, Director, Agriculture, told The Tribune that this year, 4.5 lakh hectares area was under basmati cultivation. "Though the extent of damage because of lodging will be known only after the special girdawari is done, chief agriculture officers have sent reports saying that maximum damage happened after Sunday's spell. Till Sunday, our reports suggested minimal damage to basmati, only 4 per cent, paddy 3 and cotton 1. Now, the damage could be quite high," he said.
Meanwhile, there are reports of damage to horticulture crops too, especially in cases where the seeds of vegetables were planted earlier. PS Aulakh, Director, Horticulture, said vegetables would cover 2.58 lakh hectares in the state this year. "At places, where early sowing of vegetables like carrots, cauliflower, methi and long gourd was done mainly in Hoshiarpur and Nawanshahr, the damage could be quite high, if the water is not drained out of the fields immediately," he said.
---
SAD demands relief package for farmers
Chandigarh: The Shiromani Akali Dal (SAD) on Monday demanded that the Congress government should come out with a comprehensive relief package for farmers whose crops have been damaged by incessant rainfall. They also asked why Chief Minister Capt Amarinder Singh and his
ministers were missing from action at this hour of grave crisis. Former minister and SAD Kisan Wing president Sikander Singh Maluka said it was shocking that no relief had been announced by the Congress government to provide aid to the beleaguered peasantry which was facing an unimaginable crisis. "We demand an immediate relief of Rs 15,000 per acre for damage to cotton and paddy crops and Rs 20,000
per acre for vegetable crops. This is an interim solution only. A more comprehensive relief can be awarded once all assessments are done," Maluka said. TNS