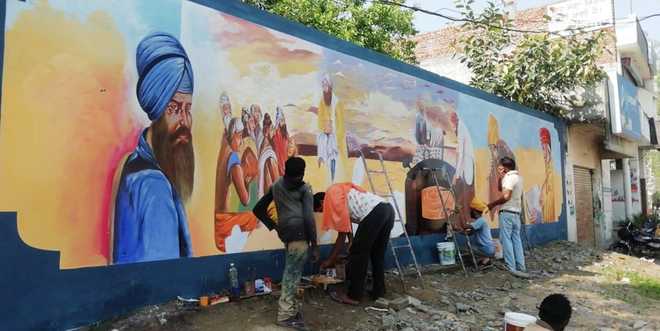 Rajmeet Singh & Deepkamal Kaur
Tribune News Service
Chandigarh/Jalandhar, September 6
To review the arrangements for the forthcoming celebrations to commemorate Guru Nanak's 550th birth anniversary, Chief Minister Capt Amarinder Singh has convened a Cabinet meeting at Sultanpur Lodhi on September 10.
It is rare that Cabinet meeting is held outside the state headquarters. "Given the importance of the celebrations, the CM will review arrangements for the celebrations beginning later this month," said a senior government functionary.
Meanwhile, the works to give a facelift to the holy town have started gaining momentum. While the Rs 100-crore civic works to strengthen 36 roads leading to the town and six bridges across Bein are nearing completion, massive beautification works have started. As the Sun sets, the town wears a picturesque look with ornamental green light illuminating 50 palm trees and wall paintings on various building. The paintings depict Punjabi culture as well as the life and teachings of the first Guru.
Deputy Commissioner DPS Kharbanda said, "The civic projects will end by September 30. Soon, there will be 36 entrance gates on all roads leading to the town. The 2.5-km embankment of Bein river too is being paved and steel railings are being erected on the rivulet side from Gurdwara Sant Ghat to Gurdwara Ber Sahib for safety of the devotees. The edges of the Bein are also being lit up so that there is no untoward incident as more sangat starts visiting the gurdwaras here in the coming days. Most of the works are being done with help from donors and NRIs".
Sultanpur Lodhi SDM Navneet Bal said, "Nearly 40 per cent work to set up three tent cities in 350 acres has been done by the company hired for the project. This will be able to accommodate 45,000 devotees from October 15 onwards. Bookings will be done through the portal which the government launched yesterday. We will have three-tier parking in 600 acres. All buses and cars would stop at a distance of about 4-5 km from the gurdwaras. From there on, the devotees will have to take mini buses that would cover about 3 km or more. Then on, it will be up to the visitors to take an e-rickshaw for the next 1 to 1.5 km or come by foot."
From security point of view, hundreds of CCTV cameras with a command and control centre, help desks and a public address system would be in place. "It has been a year since we are planning all this and arrangements would be akin to those made at Kumbh Mela or at Guru Gobind Singh gurpurb at Patna," said SSP Satinder Singh.
Special Vidhan Sabha session
The government will convene a one-day special Assembly session to commemorate Guru Nanak's 550th birth anniversary. The government is planning to invite President Ram Nath Kovind for addressing the session, apart from participating in the main event at Sultanpur Lodhi in November.
Top Stories