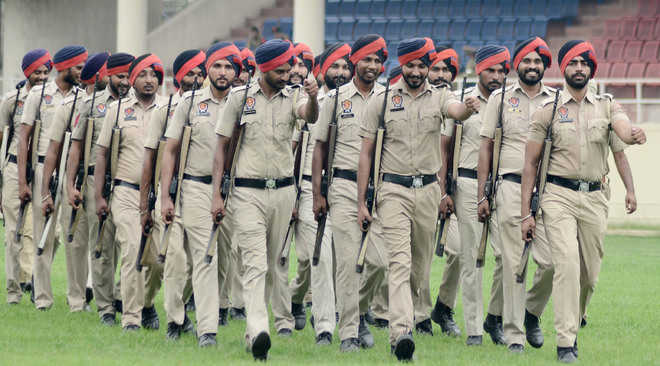 Deepkamal Kaur
Tribune News Service
Jalandhar, August 3
Chief Minister Capt Amarinder Singh will unfurl the Tricolour at the state-level Independence Day function, which is slated to be organised on the mortgaged property of the government.
The venue is Guru Gobind Singh Stadium, which the Jalandhar Improvement Trust (JIT) had mortgaged to Punjab National Bank in 2011 for taking a loan of Rs 175 crore and is now not able to clear it.
Much to the embarrassment of the government, the bank has been in the symbolic possession of the stadium since August last year.
Under the Scrutinisation and Reconstruction of Financial Assets and Enforcement of Security Interest (SARFAESI) Act, notices have been pasted on all gates of the stadium, spread over 77 kanals and 18 marlas.
The JIT during the previous SAD-BJP tenure had pledged the stadium land to develop 94.97 acre Surya Enclave Extension, a residential scheme in the city.
Going bankrupt, the JIT authorities could only return some part of the loan. A sealing notice for the stadium was also issued last year, which the officials managed to prevent after making a part payment of Rs 60 lakh. The trust stopped making further returns and the account was declared NPA by the bank on March 31 last year.
Ridiculing the Congress government, BSP leader Balwinder Kumar says, "People had expected that the party will bail out the state from the financial crisis, in which it has failed miserably. Now, the CM will have to unfurl the national flag from a mortgaged site."
Under huge liabilities, the JIT has pledged its properties worth Rs 500 crore in Jalandhar, including the stadium. After the Congress government appointed Daljeet Singh Ahluwalia as the chairman of the trust last month, he had met PNB circle head Ajay Vermani and other bank officials.
The chairman sought permission of the bank officials to sell other pledged properties with an assurance that the sale money would be immediately released to the bank to repay loans.
'Ready to repay'
The outstanding loan amount is Rs 112 crore. We have given a proposal that we are ready to clear all dues in one go on the condition that we get Rs 20 crore interest waiver. We have also sent a copy of the proposal to the govt for its approval Daljeet Singh Ahluwalia, Chairman, JIT