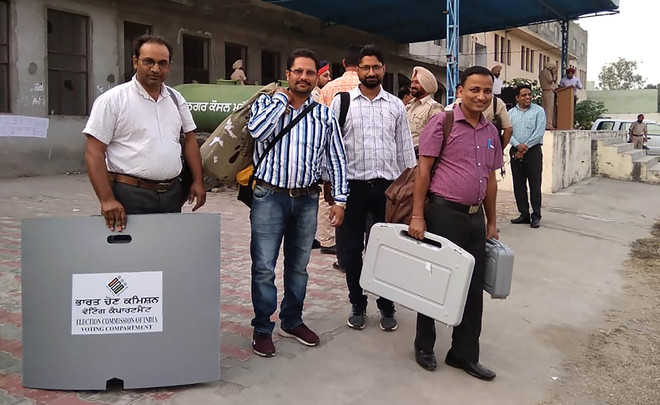 Sanjiv Kumar Bakshi
Hoshiarpur, October 20
Polling parties were dispatched on Sunday to the designated booths in Mukerian constituency where the Assembly bypoll will be conducted on Monday.
As many as 241 booths have been set up in the constituency, of which 42 are vulnerable and seven critical.
The constituency has 1,95,602 votes with 1,00,022 male, 95,771 female and nine third gender voters. Also, there are 5,178 service voters. As many as 964 polling officials and 682 policemen have been deployed at booths.
The caste plays a dominant role here and it has always been a deciding factor as far as the Assembly polls are concerned. The Ghrit, Bahti and Chahngh communities has the lion's share of votes followed by Rajput and Brahmin votes. Also, the Lubana community has a good number of voters in the constituency.
Traditionally a Congress bastion, Mukerian had been with the Congress for 12 times since the first Assembly polls in 1951.
Development is the key issue here, while other problems are lack of job avenues and industry in Kandi areas and problems faced by cane farmers.
Meanwhile, District Election Officer Isha Kalia told this correspondent that a special booth for persons with disabilities (PWDs) had been set up in Mukerian.
She said besides arrangements for facilitating voters to cast their vote at booths, special enhanced security arrangements had been made at vulnerable and critical booths to ensure free and fair polling. After the polling, EVMs would be sent back to the strongroom set up at SPN College, Mukerian.