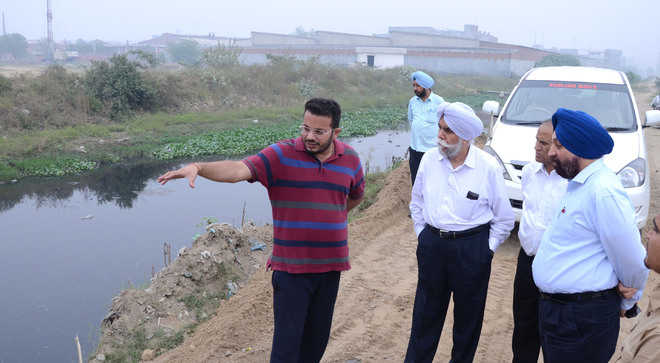 Aparna Banerji
Tribune News Service
Jalandhar, November 2
A team of the National Green Tribunal (NGT) today inspected Kala Sanghian drain and Basti Peerdaad Sewerage Treatment Plant (STP) here. The NGT monitoring committee has decided to impose a penalty on the civic body for causing heavy damage to the drain due to the non-functional STP.
The team comprised committee chairperson Justice Jasbir Singh (retd), PPCB member secretary Babu Ram, senior environmental engineer Harbir Singh and MC officials. This was the first visit of the NGT team to Jalandhar after a green panel, on Wednesday, sought concrete measures to check river pollution (Sutlej and Beas). The team observed the spot from where water from the Basti Peerdaad STP is discharged into Kala Sanghian.
Finding the 50 MLD Basti Peerdaad STP not functioning as per prescribed norms and remaining non-functional due to non-payment of dues, the team said after a damage assessment, a heavy penalty shall be imposed on the MC.
Justice Jasbir Singh (retd) said, "Our impression is that the Basti Peerdaad STP was non-functional and was started only some time before we reached. The STP has also not been paid its dues by the government for the past one year. In the absence of a properly functioning STP, untreated effluents are falling into Kala Sanghian. We shall be filing a detailed report to the Central Pollution Control Board. We will also get a damage assessment done on the basis of which penalty shall be out on the MC for damages caused."
He said, "Penal action has been taken against Ludhiana officials in the past. If culpability is established, action will also be taken here."
While pending repairs was cited as the cause for effluent discharge, Justice Jasbir said, "Even in case of repairs, they can't discharge water straight into the drain. They have to store it at a place first and then treat it. Not a drop of untreated water should be discharged into the drain."