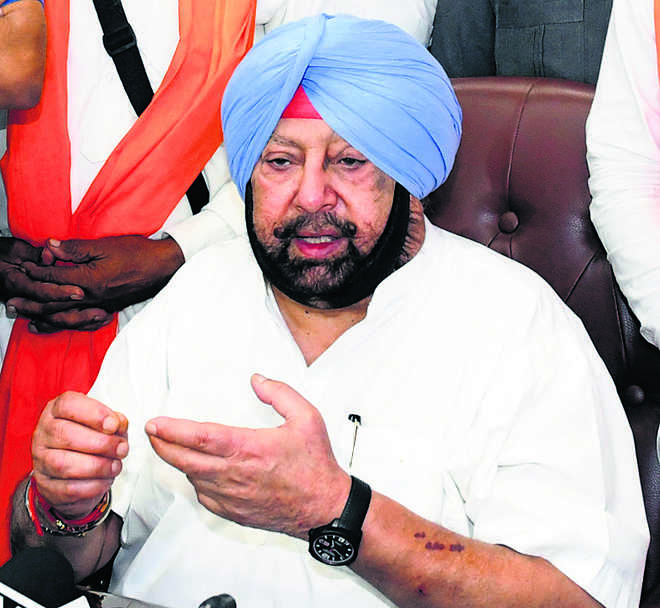 Rajmeet Singh
Tribune News Service
Chandigarh, August 27
Following Congress presiddent Rahul Gandhi's assertion that his party had no role in the 1984 anti-Sikh riots, the Shiromani Akali Dal (SAD) on Monday raised the issue on the floor of the Punjab Assembly, raising a din.
As former Akali minister Bikram Singh Majithia asked the CM to spell out his stand, Capt Amarinder Singh said a few party leaders — HKL Bhagat, Sajjan Kumar, Arjan Das and Dharam Dass Shastri — might have been involved at their own level.
"I have been naming them for the past almost 34 years." He said their names were mentioned by riot victims residing in camps whom he had visited immediately after the carnage. "The Congress, as a party, was never involved in the riots," he emphasised.
Facing flak for failure to nab those behind a string of sacrileges during their tenure in government, the Akalis tried to deflect the issue by reviving the 1984 riots, minutes before the Justice Ranjit Singh Commission report was to be tabled. They later staged a walkout.
Targeting Majithia, a combative CM pointed out that the former was just eight years old at the time of the riots. "What do you know about these?"
Former Deputy CM Sukhbir Badal asked Capt Amarinder Singh to explain why the Congress leaders named by him were allotted the party ticket and made ministers, if the party was aware of their role in the riots. Retaliating, the CM accused the Akalis of playing with Sikh sentiments to meet their own ends even as he fought attempts by rivals to push him into naming another Congress leader, Jagdish Tytler.
AAP MLA from Dakha HS Phoolka, a Supreme Court lawyer who has been fighting cases of the riot-hit, accused the Congress of shielding its leaders behind the riots. He and AAP legislators owing allegiance to Leader of the Opposition Harpal Singh Cheema stormed into the well of the House over the matter.
As Parliamentary Affairs Minister Brahm Mohindra sought that the names of the four Congress leaders mentioned during the House discussion be expunged, Phoolka objected vociferously. Intervening, the CM said there was no need to expunge the names that had been part of a public debate for the past more than three decades.
---
'No need to expunge names'
A few party leaders — HKL Bhagat, Sajjan Kumar, Arjan Das and Dharam Dass Shastri — might have been involved at their own level. I've been naming them for 34 years... there's no need to expunge the names —Capt Amarinder Singh, Punjab CM
Top News
Polling began at 8 am and will continue till 5:30 pm
In his speech at IFFI-2022, Lapid had said he was 'disturbed...
The seized drugs are the spurious versions of leading brands...
The follow-up programme of Bharat Jodo Yatra will have yatra...
Discuss Russia-Ukraine war, highlight emerging security chal...