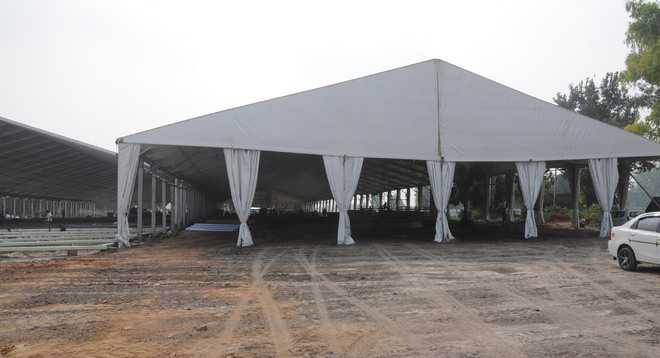 Deepkamal Kaur
Tribune News Service
Jalandhar, September 16
Even as the state government and the SAD leadership remained adamant on setting up separate stages for the programme to mark the 550th Parkash Purb of Guru Nanak at Sultanpur Lodhi, a stormy meeting of the joint commemoration committee in this regard is likely to be held in Amritsar on Tuesday.
While Charanjit Channi has reportedly gone abroad, Sukhjinder Randhawa will represent the government at the meeting. He said, "I will definitely attend the meeting and put up the government's point there. The Akalis are unnecessarily trying to create confusion and issuing provocative statements. I will try to sort out all issues."
SGPC chief Gobind Singh Longowal has been maintaining that it would set up main darbar at Guru Nanak Stadium, while the government has been making preparations for the same by setting up a pandal on the backside of Gurdwara Ber Sahib to accommodate 25,000 devotees. "There is so much smell around the stadium because of a nullah and a treatment plant in the vicinity. It is a congested area, unlike the venue we selected, which has more open approach roads," said Congress MLA from Sultanpur Lodhi Navtej Cheema.
Both the government and the Opposition have been trying to outdo each other by organising a better event and gain political mileage out of it. Even the 549th Gurpurb of Guru Nanak witnessed two venues with SAD-BJP and SGPC setting up a pandal within the gurdwara premises and the Congress holding a separate programme outside market committee office. The holding of separate functions had then invited the wrath from the Sikh community all across the world and both parties then deciding to hold a common event.
But this time, it seems unlikely. With lakhs of devotees from India and abroad expected to reach the holy town, there will be no problem for either of the two political parties to fill their respective pandals.
SAD leader Daljeet Singh Cheema said, "It is always the SGPC, which holds religious programmes. Even in 2004 on the occasion of 400th anniversary of compilation of Guru Granth Sahib, the SGPC had organised the main function, which Capt Amarinder had attended as the CM in Amritsar. We do not understand why the government is holding its own event this time."
'CM defying Takht'
Capt Amarinder is disobeying Akal Takht by challenging its dictum to observe joint celebrations. The CM should not politicise this solemn occasion. Daljeet Singh Cheema, SAD leader