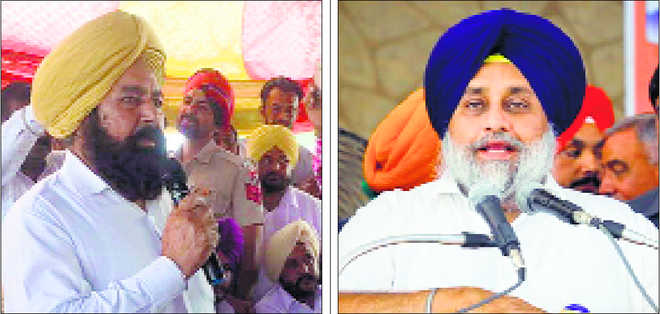 Anirudh Gupta
Ferozepur, April 23
On a losing spree since 1985, the Congress has played the Rai Sikh card in this border Lok Sabha seat, fielding rebel Akali MP Sher Singh Ghubaya, who will be taking on his one-time benefactor Sukhbir Singh Badal for whom he had vacated his Assembly seat of Jalalabad in 2009 to make way for the latter's maiden entry to the Vidhan Sabha.
A decade later, things have taken a U-turn with both Sukhbir and Ghubaya pitted against one another in this high-stakes battle. While the Congress is trying to cash in on the sizeable Rai Sikh votes, which were instrumental in Ghubaya's win in 2009 and 2014, the SAD has fielded its chief Sukhbir as it considers this seat safe. It is yet to be seen if the Congress gamble of nominating a turncoat Rai Sikh leader will pay off. Ghubaya is confident of his winning streak but it will not be an easy task for him because of the strife within the Congress. He is unlikely to get the support of all MLAs and ex-MLAs. Also, a section of Rai Sikhs is not amused at his switching sides.
None of the senior party leaders, except his son Davinder Ghubaya, the Congress MLA from Fazilka, accompanied him during a roadshow on Monday when he kicked off his poll campaign from Talwandi Bhai. This has not dampened his spirits. Ghubaya says he is ready to "teach Sukhbir a lesson" for allegedly plotting his political demise by leaking a sleaze video and then ordering raids on his engineering college ahead of the 2017 Vidhan Sabha elections.
Talking to The Tribune, Ghubaya said he would prevail upon Congress leaders who are upset over his entry into the party fold. "I will create a political upheaval by defeating Sukhbir from this seat," he claims.
Sukhbir too launched his campaign from Abohar today, attacking CM Capt Amarinder Singh for criticising PM Modi's statement on India's nuclear arms. Addressing his first public meeting, Sukhbir said: "We will rid Punjab of those who have betrayed not only Punjabis, but also Guru Sahibaan by undertaking a false oath in the name of Sri Guru Gobind Singh ji." He said the SAD was committed to a greater share for the state from the Central revenue to "transform the face of Punjab".
Sukhbir charged the Congress government with discarding "pro-poor initiatives", such as Atta-Dal, Shagun and SC scholarships. Though Sukhbir did not name Ghubaya, senior Akali leader Janmeja Singh Sekhon accused Ghubaya of betraying the SAD as well as the people of Ferozepur.
---
Rethink decision, says minister
Ferozepur: Cabinet Minister Rana Gurmit Singh Sodhi, who was in the ticket race, said on Tuesday that Congress workers were upset over ticket allotment to Sher Singh Ghubaya, who had "unleashed atrocities" against them during his tenure as Akali MLA. Describing himself as a "dedicated party soldier," he exhorted the party to reconsider the decision. He claimed it would be an uphill task for Ghubaya to win. The four-time MLA from Guruharsahai claims to have the support of Rai Sikhs. OC
---
Sukhbir plotted my political demise, will create political upheaval by defeating him. — Sher Singh Ghubaya, Congress
We will rid Punjab of those who have betrayed not only Punjabis, but also Guru Sahibaan. — Sukhbir Badal, SAD
Top Stories