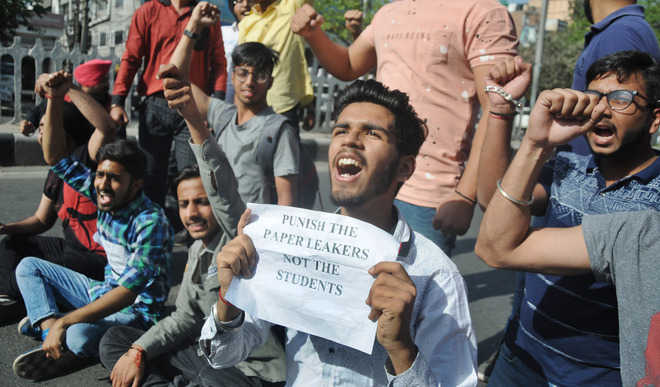 Sanjeev Singh Bariana
Tribune News Service
Chandigarh, march 29
As many as 34 private institutions and four government schools have been named in the final report submitted by the district administration to the Education Department on centres abetting mass copying during the annual Punjab School Education Board (PSEB) examination this year in Tarn Taran.
Manohar Kant Kalohia, chairman, Punjab School Education Board (PSEB), has marked a departmental inquiry after receiving a detailed report from Deputy Commissioner Pardeep Kumar Sabharwal last week.
The problem has been found peculiar to the entire Khemkaran Sector besides odd cases in Valtoha, Kutcha Pucca, Mastgarh and Rajoke. Principal of Government School, Kiratowal, Rajinder Sharma has been named as one of the masterminds in the mass copying.
Secretary (School Education) Krishan Kumar said: "We have come to know that the practice of mass copying was going on in area for the past three-and-a-half decade. We have sent the report to the board which has called for strict action, including disaffiliation of private schools and disciplinary action against government school staff concerned."
The report compiled by Surinder Singh, SDM, Patti, is also learnt to have come down heavily on the PSEB for poor verification before giving affiliation. It has clearly pointed out that a majority of the schools on the list were 'open schools.' These had enrolled students from outside the district which were against the board ethics.
The report has shown that while enrolment in Classes IX and XI in the institutions under investigation was average, the number of students in Class X and XII were alarmingly high. The report has indicated that a large number of these students, mostly from science groups, were actually studying at coaching institutions in Chandigarh and Kota.