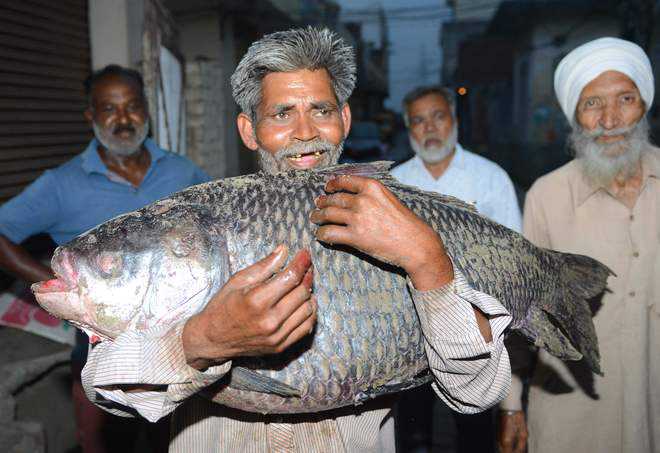 GS Paul
Tribune News Service
Amritsar, May 18
Teams of the World Wide Fund for Nature-India (WWF) along with forest teams of Harike district on Friday conducted a survey to gauge the loss of aquatic life as a result of molasses getting spilled into the Beas.
Leaving aside the mass death of tonnes of fish, now the main concern of officials is the well-being of the endangered Indus dolphins and gharials.
Officials heaved a sigh of relief after spotting at least 16 of the total 47 gharials but there is suspense over Indus dolphins as not a single dolphin could be traced during Friday's survey.
As per a latest survey conducted on a 185-km stretch of the Beas, the estimated population of Indus dolphin is believed to be between five and 11.
Wildlife experts, led by Principal Chief Conservator of Forests (Wildlife), Punjab, Kuldip Kumar, conducted the survey to assess the situation.
"There has been a massive damage to the aquatic life. We travelled downstream from the Beas Bridge to Harike to find that water was getting normal up to Ghagrewal village. We spotted at least 16-17 gharials. Some of them had shifted to upper streams up to Sri Hargobindpur. Our main worry now is the condition of the Indus dolphins as we could not locate even one today. But the positive point was that we didn't notice any casualty too. Yet, the water towards Harike is still rusty red in colour. We will look out for the dolphins tomorrow," he said.
Samples of water and dead fish were taken by teams of Guru Angad Dev Veterinary and Animal Science University. Deputy Commissioner KS Sangha said the laboratory test report would be received by Monday. "It will reveal the exact cause of the death of fish and the type of pollutants that got mixed in water," he added.