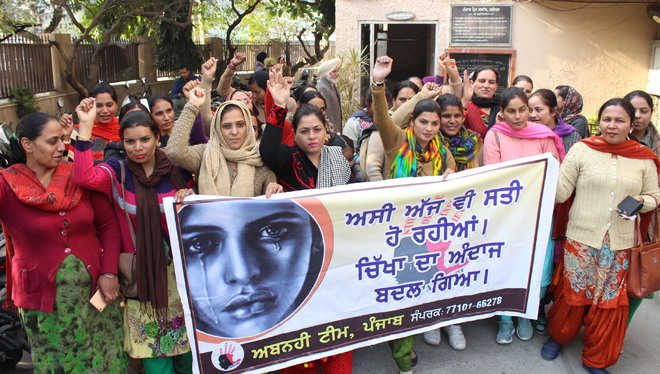 Ajay Joshi
Tribune News Service
Jalandhar, December 20
Undergoing legal hardships for the past 10 years, Sarabjit Kaur from Gurdaspur is among the 32,000 women who have been deserted by their NRI husbands.
Within a year of marriage, Sarabjit's husband Diler Singh left her. Sarabjit (34) said, "It's been nine years since my husband abandoned me and moved to Canada. My in-laws alleged that my daughter was illegitimate. After my husband ran away, they ousted me from their house and now I'm dependent on my parents." She said her husband had married another woman in Canada.
Going through the same ordeal, 33 deserted women from across the state pleaded for their rights and social security from the government.
Demanding their legal rights, these women have formed "Ab Nahi: Abandoned Wives by NRI husbands internationally Sanstha".
President of the organisation Satwinder Kaur Sati said there were around 32,000 women in the state, who had been affected by such marriages.
Seema of Jagroan said her husband left her four years ago and was in a live-in relationship with a girl in Kuwait. She alleged that she was physically tortured by her father- in-law and was ousted from the house. With a five-year-old daughter, she tries to make ends meet with the meagre money she earns by working as a computer operator.
Some of these women have managed to impound the passports of their husbands and have asked Union Minister of Women and Child Development Maneka Gandhi to deport their husbands and settle their case.
There were a few women whose FIRs have not been registered in the local NRI police divisions.
Kulvir Kaur, whose husband is residing in the US for the past 10 years, said her FIR has still not been lodged by the SHO in the NRI police station of Ludhiana. Likewise, Jasmeeen Kaur (26) from Dugri, Ludhiana, said her in-laws have sought Rs 30 lakh dowry to call their son. It's been two months and her FIR has not been registered.
NRI police station, Ludhiana, SHO Ranjit Singh said FIRs would be lodged once probe in their cases were complete. Legal adviser to these abandoned women Sarabjit Singh said a special team should be formed to nab the accused and the government should make effort to provide them their rights under the matrimonial Acts.
Top News
Team of Congress central observers, led by Chhattisgarh CM B...
'Observers sent to the hill state were seeking the individua...
BJP MP Kirodi Lal Meena moved for leave to introduce the Bil...
A bench of Justices MR Shah and CT Ravikumar said that only ...
Average of assets per winning candidates in Himachal Pradesh...